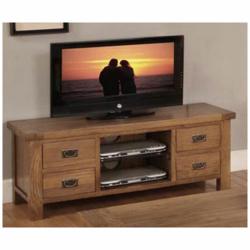 Over the last year there has certainly been an increase in the demand for traditional oak furniture and especially for the living room.
Preston, UK (PRWEB UK) 27 January 2012
Oak Solution, a popular online furniture retailer that specialises in solid oak furniture and sells a vast variety of Solid Oak Living Room Furniture ranging from coffee tables to television cabinets, has reported a significant increase in sales of quality Solid Oak Furniture specifically designed for the living room.
Recent sales figures have shown that living room furniture is second only to office furniture and the gap between the two is minimal.
Oak Solution believe that one of the main reasons for the increase in demand for solid oak furniture has been the ever increasing size of televisions, which now require stronger, excellent quality TV cabinets in order to support them, and that the rest of the living room has to match.
Matthew Harris, an interior designer at Oak Solution, said:
"Over the last year there has certainly been an increase in the demand for traditional oak furniture and especially for the living room. This is definitely why the introduction of some of our traditional ranges such as the Belmont and Victoria Solid Oak Collections have proved such a success. We then decided to replicate these ranges with a contemporary look in the brand new Oxford Solid Oak Range which has already had overwhelming success. We recently furnished a townhouse and the customer wanted to move away from the contemporary light oak feel. They fell in love with the Victoria Solid Oak Furniture range and especially the very popular Victoria Solid Oak Television Cabinet and solid oak coffee table with two storage drawers".
Oak Solution firmly believe that the living room is the most popular place in the home for the entertainment of guests and where families come together to end their day, relax after a long workweek or to enjoy a television program together. Oak Solution also believe that In most cases, this room is on the main level of a home and sees a lot of activity, and that this is why it is imperative that this area be decorated and made into a friendly atmosphere to ensure the comfort of visitors.
Oak Solution say that when planning a living room design, the first and most important factor to decide is the purpose of the room, and that one thing to remember when designing a living area is that it has to be comfortable in the room and the occupants must like the style, since they will most likely be spending a lot of time in the room. Oak Solution suggest that giving a personal touch to a living room means making this room something unique, where the intimate characteristics of the owner can be mirrored.
Rebecca Jones, a recent customer, gave her opinion:
"I chose Oak Solution over other companies because they really spent a lot of time and effort helping me choose the right furniture for my living room. They considered my choices of style, colour and the space available to me. They have been excellent from start to finish and the transformation of my living room has been amazing."
###