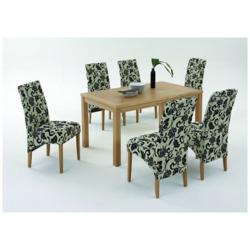 The money customers save by not frequenting expensive restaurants quickly helps to pay for the new furnishings
Preston, UK (PRWEB UK) 2 March 2012
Oak Solution conducted a recent survey to find out why there has been a recent increase in demand for Solid Oak Dining Room Furniture. They found that around 86% of their customers concurred that it was the economic downturn that had encouraged them to save cash by inviting friends and family round for dinner, rather than eating out at restaurants or pubs.
When asked about the connection between the recession, hosting more dinner parties and buying new dining furniture, Suzan Montgomery, a recent customer of Oak Solution from Ipswich, commented:
"For me and my Husband, we used to meet up with friends quite regularly at restaurants before the recession, but now we have even more fun hosting our own dinner parties at home – and more of them! The money we have saved in just over a few months has more than paid for our new Solid Oak Furniture, which are big enough to seat 8 people, have improved the quality of our home, and have been a sound investment."
Oak Solution believe that "Come Dine With Me" – A popular reality TV show where four contestants have to take turns hosting a dinner party for the other three, has also been a great influence over people's enthusiasm for home dinner parties.
Miles Smith, Manager at Oak Solution said:
"More and more people are staging their very own TV style dinner contests by frequently inviting their friends and family over for dinner, where they have to be judged not only by the quality of their cooking, but also on their hospitality and etiquette. We believe that style conscious hosts hope to gain more points by impressing their guests with new dining room furniture that is also more sturdy, comfortable and accommodating. The money customers save by not frequenting expensive restaurants quickly helps to pay for the new furnishings."
Oak Solution have always said that the dining room is also the place where members of a family come together to have their meals, and is like a place of rendezvous where many important conversations take place. However, with the changing times, they believe that the importance of the dining room, as well as its functional purpose, cannot be stressed highly enough.
Oak Solution recognise that meal times are one of the most important parts of the day, and that it is a chance to get the family all in one place, whether it be to enjoy a roast in the evening or simply a bowl of cereal in the morning. According to Oak Solution, the last thing you need is to feel uncomfortable whilst feasting, which is why they offer a variety of quality solid oak dining room furniture, including Solid Oak Dining Tables and dining chairs. They cater for large families with extending dining tables as well as smaller tables for romantic couples to enjoy.
Nadeem Rajani, director at Oak Solution, shares the following suggestion for customers looking to enhance their dining rooms:
"The dining room usually is as simple as having a table with chairs around to allow people to eat and drink comfortably together. Although the room's function is simple, the process of choosing which furniture to be used should deserve no less scrutiny and planning than that of other rooms. Why not compliment your dining table with essential storage items such as sideboards and dressers to store away your prized utensils and add a bit of style and glamour to your room? One range that has proven to be very popular with customers is the brand new Eton Solid Contemporary Oak Collection. It features over 10 different pieces of furniture for your dining room, including a stunning large extending dining table and various solid oak dressers featuring an internal light."
Andrea Harrison, a recent customer of Oak Solution, offered her opinion:
"I have been searching far and wide for a dresser to compliment my solid oak dining table in my dining room. When I saw the Eton Solid Oak Large Dresser I instantly fell in love with it. There are many dressers available on the internet but there was something unique about this. You can tell it oozes style and quality and the internal light is a handy feature. As well as this, there is a choice of metal or oak handles so I was able to match existing décor."
Oak Solution have recently expanded their range of Solid Oak Dining Room Furniture and also Solid Oak Living Room Furniture. If you need any help in choosing the right furniture, you can call their customer service representatives on 01772 499081, who offer a dedicated service to find the right furniture for your home.
# # #