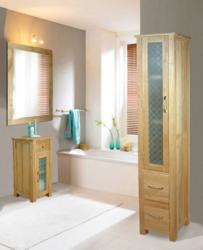 We now see the bathroom as a place of relaxation and peace and this has to be reflected in its setting.
Preston, UK (PRWEB UK) 21 December 2011
Bathrooms should be a haven of peace and tranquility, somewhere that you can get ready for the day ahead or relax and unwind after the one before it. And in these times of the credit crunch, it has never been more important to have a place in the home that has been fine tuned for relaxation and revitalisation.
The bathroom lends itself well to contemporary style. Its cool, smooth surfaces, sculptural fittings, and highly engineered plumbing combine to create an environment of calm and order which, for many of us, is difficult to maintain elsewhere in the home, especially in the current economic climate.
A recent survey conducted by Oak Solution revealed that no less than 83% of homeowners admitted that their bathroom was cluttered, largely by shampoo bottles, laundry and grooming equipment. Around 75% of which also agreed that purchasing storage based furnishings for their bathroom would allow them to tidy up their clutter and make their bathrooms a much more pleasant place to unwind.
The demand for bathroom furniture (especially solid oak bathroom furniture) is ever increasing and as a result, Oak Solution offer a variety of products to give your washroom a stunning, modern look.
Nadeem, Director at Oak Solution stated:
"All of our products are designed to offer convenient storage solutions creating essential space in your bathroom as well as a variety of options from our oak, painted or dark wood furniture ranges."
Mr Worthington, a recent customer of Oak Solution, bought a whole range of solid oak bathroom furniture from the award winning Conran Solid Oak Furniture Range:
"A few years ago I would never have thought of buying solid oak bathroom furniture. I always felt these type of items were for my living room or lounge. Now I guess times have changed. We now see the bathroom as a place of relaxation and peace and this has to be reflected in its setting. The tall solid oak bathroom unit allows us to store away all our essentials neatly and tidily and this is perfectly complimented with the solid oak laundry bin to throw in our clothes."
Currently at Oak Solution you will find a variety of bathroom furniture including storage units, mirrored cabinets and laundry bins. The designers and product development team at Oak Solution are looking to expand on their bathroom furniture portfolio, so expect to see the selections being increased over the coming months including a new exciting range consisting of solid oak washstands to house your bathroom sink and tap.
###