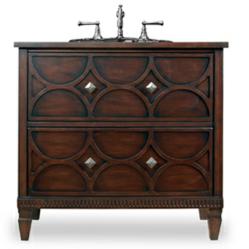 If a solid wood vanity becomes seriously damaged over time, the surface can be sanded down and re-stained or otherwise resurfaced to eliminate the blemishes.
(PRWEB) August 26, 2012
HomeThangs.com – the Home Improvement Super Store has made their goal to deliver the right product to the consumer, with that in mind, shopping and home design tips, as well as special product selections are being introduced.
Once upon a time, almost all furniture was made from solid wood. Wood was harvested from trees, cut to size, assembled, carved, sanded, stained, and sealed – and that was that. But nowadays it can be difficult to know what the furniture is made of. Bathroom vanities, for example, are quite often made of MDF or plywood with laminate or vinyl coverings, which might be inferior in some ways compared to more traditional solid wood bathroom vanities.
HomeThangs.com introduced a guide to solid wood bathroom vanities to educate the consumer and explain what wood vanities offer that other materials don't.
1. Solid wood is an incredibly strong material.
Many MDF and plywood bathroom vanities are built with solid wood frames for structural support, but the more wood there is in a vanity, the stronger and more durable it will be – and the more weight it'll be able to support. This is especially important if one wants extra heavy granite, marble, or concrete countertop. Solid wood bathroom vanities – that is, ones made with real hardwood throughout, like the Somerset vanity from Sagehill Designs, not just the frame – hold up very well against long term wear and tear. Another great example of unsurpassed quality are solid wood vanities from Cole and Co.
2. Solid wood bathroom vanities last a long time because they can be easily repaired.
While many materials that are used in inexpensive modern construction might look nice when they're first installed, even if they're produced well and hold up over a long period, if they're damaged – scratched, gouged or stained – they're almost impossible to repair because the finish is typically a thin layer covering a wood composite underneath. With solid wood bathroom vanities, like the Vigneron vanity from Herbeau, even if the vanity becomes seriously damaged over time, the surface can be sanded down and re-stained or otherwise resurfaced to eliminate the blemishes. Because that beautiful natural wood grain is real and goes all the way through, it can be repaired where other bathroom vanities would have to be discarded.
3. Solid wood bathroom vanities can be better for the health.
MDF and plywood are made from remnant and scrap wood pressed together and bound with various kinds of adhesives, and then further processed to be water proof. But many of the chemicals used in these processes, collectively referred to as volatile organic compounds (VOCs), can be harmful to the human respiratory system and can even be carcinogenic. Bathrooms are typically closed spaces, especially ones without windows, and these VOCs can leech from processed woods over time and accumulate in a bathroom and throughout the home. To avoid this, opt instead for solid wood bathroom vanities that are made of wood that hasn't been treated with formaldehyde, like the ISO Approved Hardwood vanities from Legion Furniture.
4. Solid wood bathroom vanities often look better.
To a certain extent, this is a matter of opinion, but vanities made of real wood have a certain natural character that other materials simply can't replicate. Between natural grain, knots, and pores in the wood, each and every wood vanity is unique and beautiful. While some laminates may mimic the look of wood from afar, up close they can't compare, and no synthetic material can replicate the feel of it.
5. Their slightly higher price is offset by their longevity.
While in many cases one will pay a premium for solid wood bathroom vanities, especially if they're made of a rarer wood, they are really designed to last a lifetime. A well made, solid wood vanity like one from the Casual Elements Collection by Sagehill Designs, is designed to stay structurally sound, visibly beautiful, and completely functional in inhospitable bathroom conditions. They may require a little more maintenance than synthetic wood vanities to prevent splitting and fading, but with regular care, they will stay looking just as beautiful as the day they were bought.
6. They can be eco-friendly.
While installing a vanity made of solid hardwood mahogany is definitely not the most "green" bathroom choice to make, there are ways to lessen the environmental impact of a solid wood bathroom vanity while preserving all of its other positive qualities. Veneers offer the solution. While most lumber is cut to a one inch thickness with a lot of sawdust waste between each board (the stuff MDF is sometimes made of!), veneers are carefully trimmed to 1/32″ sheets with little or no waste between each one. This is incredibly important for the most beautiful hardwoods (especially old heartwood). Solid mahogany vanities are not only prohibitively expensive, but also require wasteful cutting of valuable natural forests. But a vanity with mahogany veneers over a less expensive wood, like the Barrister vanity from Sagehill Designs, offer the same final look, but supports local tree farmers and ensure that natural grown exotic wood is harvested in smaller quantities and more sustainably.
With so many materials available, each with its own set of pros and cons, choosing the right bathroom vanity to meet the needs isn't always easy to do.
HomeThangs.com is not only a home improvement superstore, it also provides expert design tips and a comprehensive shopping guide, taking the ideas from professional interior designers, and offering tips to the consumers on how to pick the products to best suit their needs.