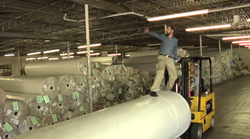 Dallas, TX (PRWEB) October 17, 2012
Dallas Flooring Warehouse stuns Dallas residents and builders alike with new solid hardwood flooring discounts on custom installed stain in place nail down solid hard wood floors. Customers report feeling left in shock and awe due to the wholesale direct pricing on solid wood flooring.
Dallas Flooring Warehouse is now offering ¾" red oak and white oak solid hardwood flooring with complete installation for $6.99 sq. ft. This price includes the 5/8" plywood subfloor, felt and plastic, custom stain in place in any custom color and complete finishing with three coats of polyurethane. The same quality nail-down solid hardwood flooring is available in a custom handscraped finish for $7.50 sq ft. After nail down and sanding, the solid hardwood floor can be handscraped across the grain of the wood or with the wood depending on customer preference.
"Our mission is to bring flooring at wholesale discount pricing directly to homeowners, builders, contractors and commercial property owners. Smooth finish solid hardwood flooring for only $6.99 is only the beginning of what Dallas Flooring Warehouse has to offer. Between the custom color strain in place and triple coating of polyurethane these floors are a beautiful and value-added addition to any home. For those that want a custom hand scraped hardwood floor the cost is only $7.50 sq. ft. Best of all there are no hidden costs, everything is included. We are committed to providing discount flooring to Dallas," says Christopher Oliver, spokesman for Dallas Flooring Warehouse.
"The installation of our custom Dallas solid hardwood flooring begins with the installation of the 5/8" plywood subfloor which is nailed into the concrete slab of the house. Once the subfloor is in place the felt and plastic are placed over the subfloor. Next the ¾" solid hardwood planks are arranged on the floor. Once that is complete the hardwood is power nailed into the subfloor. The floor is then filled and sanded. If the floor is to be a hand scraped hardwood floor the scraping is then done. To complete the installation the floor is stained and then coated in polyurethane," John Martinez, hard wood flooring installer.
Dallas Flooring Warehouse has the lowest prices on flooring in the Dallas Fort Worth metroplex because they sell wholesale direct to the public. Their huge multi-million dollar on-site inventory and massive buying power allow them offer quality flooring at deep discount prices. Their address is Dallas Flooring Warehouse 8717 Directors Row Unit B Dallas, TX 75247. Their Dallas wholesale flooring hotline is (682) 300-3836. For more information about Dallas Flooring Warehouse or wholesale sold wood or laminate flooring in Dallas visit their website at dallasflooringwarehouse.com.