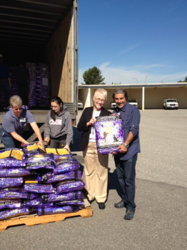 We are honored to have the opportunity to share our wonderful Sun Dancer™ dry dog food with great organizations that do so much good for dogs
San Diego, CA (PRWEB) March 20, 2012
Solid Gold® Health Products for Pets has proudly donated over $1 million dollars' worth of its super premium chicken and fish dog food product, Sun Dancer™, to fourteen animal rescue organizations across the country. Solid Gold® applauds the continuous efforts of these organizations to provide food, veterinary services and adoption opportunity to homeless animals.
Solid Gold® was founded over 40 years ago to provide pets worldwide with holistic nutritional products. Solid Gold® embraces the mission of participating animal shelters in their donation program and is pleased to contribute to their cause. "We are honored to have the opportunity to share our wonderful Sun Dancer™ dry dog food with great organizations that do so much good for dogs" noted Steve Wirick, chief sales officer, Solid Gold®.
Solid Gold® was one of the first pet food companies in the United States to use all-natural ingredients in pet food products. Sun Dancer™ is a chicken and fish based, grain-free and gluten-free dry dog food with moderate protein and fat content. Sun Dancer™ includes four key ingredients; tapioca, chia seed, fructooligosaccharide (FOS) and tumeric, a source of curcumin, providing an excellent source of protein, Omega-3 fatty acids, starch, and probiotic to help improve overall digestive health.
Each of the following animal welfare organizations received from 5 tons to 44 tons of Sun Dancer™ product from Solid Gold®:
SPCA of Rhode Island • SPCA of Connecticut • San Diego Humane Society & SPCA • Friends of Los Angeles Animal Services • Pasadena Humane Society & SPCA • The Dog Spot • Milo Foundation • Nevada Dog Town Rescue • Las Vegas Adopt A Rescue Pet • The Pet Food Bank • Santa Cruz SPCA • PAWS Chicago • PAWS San Diego • Second Chance Dog Rescue San Diego
"Thanks to Solid Gold®'s donation not only were we able to include more dogs into our program, we also have the satisfaction of knowing we are providing a high quality food" commented Kate Montgomery, director of The Dog Spot. Solid Gold® would like to thank participating organizations for their continuing efforts to help distressed animals, and will continue to explore ways to support their cause.
About SOLID GOLD®
Solid Gold® is one of America's leading premium pet food manufacturers offering more than 40 high-quality branded products for dogs and cats including dry foods, canned foods, biscuits and treats, supplements, and topical products. The company is proud to be an innovator in holistic pet food products sold through national retail stores, regional chains, independent retailers, animal feed stores, groomers, kennels, pet hotels, and veterinarians. Solid Gold® is one of the most sought after premium pet foods with cornerstone brands Hund-n-Flocken™, Wolf King™, Barking at the Moon™, Just a Wee Bit™, Hundchen Flocken™, Wolf Cub™, Indigo Moon™, Katz-N-Flocken™, and newly introduced brand Sun Dancer™.
Discover more at http://www.SolidGoldHealth.com
For further information, contact Solid Gold® at 800-364-4863 or email Hound(at)SolidGoldHealth(dot)com or visit http://www.SolidGoldHealth.com