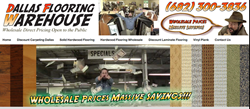 Nobody can touch our prices on 3/4" solid hardwood flooring for $6.99/sqft we do a complete installation including the subfloor, sanding, staining and finishing in place with no hidden charges. We also offer a hand scraped finish for only $7.50sqf
Dallas, TX (PRWEB) January 15, 2013
Dallas Flooring Warehouse is announcing new wholesale pricing on solid hardwood nail-down flooring. Dallas residents are shocked by the wholesale direct pricing at Dallas flooring warehouse on hand scraped hardwood flooring and solid finish in place hardwood floors. Customers arriving at the warehouse are pleasantly stunned when they are given the opportunity to purchase at builder and contractor prices on new flooring for their homes.
"I really am blown away that I was able to get solid hardwood flooring installed with a custom hand scraped wood finish floor only $7.50 per square foot with no additional charges. Just a week before I discovered Dallas flooring warehouse I was about to pay $40 per square foot for product that was similar but prefinished. It's amazing that at a savings of $33 per square foot I was able to get a better product with a custom color finished in place and a turnkey complete installation. Wow!," says Mike, Dallas resident and hand scraped wood floor customer.
Dallas flooring warehouse wishes to remind customers to inform their salesperson that they found out about the warehouse through the dallasflooringwarehouse.com website in order to get the special promotional pricing on solid hardwood flooring and hand scraped hardwood floors.
"Nobody can touch our prices on 3/4" solid hardwood flooring for $6.99/sqft we do a complete installation including the subfloor, sanding, staining and finishing in place with no hidden charges. We also offer a hand scraped finish for only $7.50sqft. We know that our wholesale direct to the public pricing has other flooring stores are across the DFW Metroplex crying fowl and unfair, but our commitment is to wholesale direct pricing to the public. We encourage prospective hardwood flooring customers to give us a call at 682-300-3836. Remember to tell your salesperson that you came from the Dallas flooring warehouse website to get this special pricing," says Christopher Oliver, Dallas Flooring Warehouse spokesman.
Dallas Flooring Warehouse specializes in delivering the lowest prices on flooring in the Dallas Fort Worth metroplex. Their huge multi-million dollar on-site inventory and massive buying power allow them to sell wholesale direct to the public and contractors alike. Their address is Dallas Flooring Warehouse 8717 Directors Row Unit B Dallas, TX 75247. Their Dallas wholesale flooring hotline is (682) 300-3836. For more information about Dallas Flooring Warehouse or wholesale laminate flooring in Dallas visit their website at dallasflooringwarehouse.com.