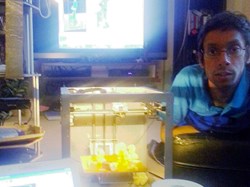 A 3D printer is going to allow me to start realizing and prototyping a robot arm. I believe the end result will have incredible independence-enabling possibilities.
Brooklyn, NY (PRWEB) August 30, 2013
Consumer 3D printer-manufacturer Solidoodle is proud to support the efforts of London-based inventor Davey Jose in the development of a low-cost mobile-device-controlled robotic system to assist people with mobility impairments.
Solidoodle has provided Mr. Jose with a Solidoodle 3rd Generation 3D printer and materials through its Imagine It charitable foundation and will provide technical support and assistance in using 3D printing to create parts for the project.
Mr. Jose, a global macro strategist with a degree in mathematics and computer science from Trinity College, Cambridge, himself, is limited to the use of his right arm after being struck by a car and suffering a C-1 level spinal cord injury as a young child. After researching automation and robotics last year for his work, he decided to take on the personal mission of finding tech solutions to further independence for himself and others with mobility impairments. His first project consisted of converting his home's lights and electric outlets to be controlled by mobile devices earlier this year. "All were low-cost, off-the-shelf solutions that, a few years ago, would have cost a lot of money and been complex to install," he says. Jose's second project was a mobile base unit—a mobile app-controlled "shelf on wheels," which he uses to store things such as medicines and small snacks. His goal, moving forward, is to use a Solidoodle 3D printer to develop a mobile unit with a robotic arm. He is also utilizing low-cost 3D scanning tools to develop virtual models of his orthotic body suit to potentially provide adaptable functions for his robotic arm technology beyond the mobile unit.
"The project I'm embarking on is to create tele-operated robotics to be my new arm and help fetch things for me from places in my home that I can't reach without help," says Jose. "A 3D printer is going to allow me to start realizing and prototyping a robot arm. I believe the end result will have incredible independence-enabling possibilities."
"I met Davey at the grand opening of the iMakr 3D printing store in London a few months ago. I was impressed by his goal and wanted to be part of it," says Solidoodle CEO Sam Cervantes. "3D printing is an amazing technology that's empowering problem-solvers like Mr. Jose to develop low-cost solutions to improve the quality of life for many people. Our users are what define our products and I am certain that the 3D printing community will provide a major net benefit for the world."
Mr. Jose is open to collaboration and support, particularly in the areas of actuators, electronics, and control software. For more information on Davey Jose, visit his tech blog at http://microbytes.tumblr.com and follow the 3D-printed arm project at http://www.c1robotics.com.
About the Imagine It Foundation
The Imagine It Foundation is Solidoodle's charitable arm, aimed to help raise awareness and support for organizations and individuals interested in using 3D printing technology to make the world a better place, with a particular focus on medical-, health-, and education-related initiatives.
About Solidoodle
Solidoodle was founded in 2011 by aerospace engineer and 3D printing industry-veteran Sam Cervantes with the mission of developing quality 3D printers that are affordable and easy to use. To date, the company has shipped over 6,000 printers to satisfied customers in over 60 countries. For more information about Solidoodle, visit http://www.solidoodle.com.