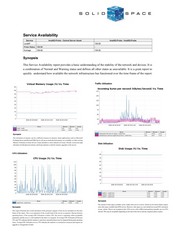 We see more and more small to mid-size businesses moving towards hosted applications and services offered via the web
Winston Salem, NC (PRWEB) September 29, 2008
Winston-Salem, NC (PRWEB) September 29, 2008- In a move to better meet the needs of small to mid-size businesses maintaining mission critical applications and networks, SolidSpace, LLC, a provider of IT hosting and network services, today announced their enhanced Data Center Managed Services. SolidSpace's Data Center Managed Services plans, Tier 1 and Tier 2, offer Colocation and Dedicated Server clients first response technical support and expert operating system management that is focused on uninterrupted connectivity, top notch security and preventive maintenance.
Now including a monthly vulnerability test and upgraded availability monitoring, Tier 1 and Tier 2 Data Center Managed Services deliver a comprehensive performance diagnosis and identify security and application weaknesses swiftly and proficiently. The upgrades to SolidSpace's Data Center Managed Services give clients:
An enhanced view of monitored devices through a detailed weekly report displaying a device or network's performance and reliability.
Availability monitoring in 90 second intervals with failure alerts sent via email or email capable device
Preventive maintenance by award winning IT professionals experienced in monitoring a wide ranged of operating systems for event log alerts, backup completion, patch management and antivirus definition updates
Discounted support rates when remediation is needed
"We see more and more small to mid-size businesses moving towards hosted applications and services offered via the web," stated Jim Capps, President and CEO, SolidSpace, LLC. "By enhancing our Data Center Managed Services plans we are further equipped to help our clients make informed decisions about their growing IT needs. SolidSpace will ensure our clients are receiving the most out of every IT dollar spent."
About SolidSpace, LLC
SolidSpace, LLC is a leading provider of IT hosting and network solutions, enabling small to mid-size businesses to benefit from Enterprise Level IT services economically. SolidSpace's solutions provide onsite and remote IT services, website, application, and database hosting, managed services, collocation and broadband services. SolidSpace, LLC is headquartered in Winston-Salem, NC and is a portfolio company of SilkRoad Equity LLC. Additional information about SolidSpace, LLC services can be found at http://www.solidspace.com .
About SilkRoad Equity
SilkRoad Equity is a private investment firm founded by Andrew J. "Flip" Filipowski and Matthew Roszak. SilkRoad Equity targets investments in the areas of technology, life sciences, media and entertainment and real estate, and is comprised of a portfolio of companies that includes: Cryo-Cell International, House of Blues, InterAct911, Mastro Auctions, MissionMode Solutions, onramp Branding, Pendulab, Primo Water, Rakote, SilkRoad technology, SolidSpace, TrueSystems and Vion Mobile. For more information, visit http://www.silkroadequity.com.
###