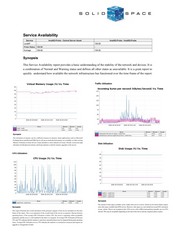 By bundling availability testing, operating system maintenance and technical support, our Remote Managed Services becomes a flexible, affordable and indispensable tool for any size business
Winston Salem, NC (PRWEB) September 29, 2008
Winston-Salem, NC (PRWEB) September 29, 2008 -- SolidSpace, LLC, a provider of IT hosting and network solutions, today announced another powerful addition to their new managed services offering-Remote Managed Services. Businesses with in-house IT equipment can benefit from data center level managed services for a fraction of the cost of onsite support.
SolidSpace's mission is to offer dependable, scalable IT solutions that help small to mid-sized business meet growing client and infrastructure needs. By remotely accessing a business' email server, firewall or other internet connected device, SolidSpace' s Remote Managed Services brings patch maintenance, reliability testing and a professional IT partner directly to the busy system administrator or business owner. Maintaining multiple operating systems is a mundane, time consuming task but is absolutely vital to network health and mission critical application stability.
"By bundling availability testing, operating system maintenance and technical support, our Remote Managed Services becomes a flexible, affordable and indispensable tool for any size business," states Jim Capps, CEO of SolidSpace, LLC. "This allows SolidSpace to become an all-encompassing IT partner to our clients not located within our data center, acting as their sole system administrator or as an extension of their existing IT department ."
The Remote Managed Services solution can be customized to maintain a network of switches and routers or a single website server, delivering detailed weekly reports of a device or network's CPU, Disk and Memory utilization, failure alerts, and proactive maintenance strategy. SolidSpace's professional support team provides first response alert support along with identifying hardware and applications issues to ensure clients can focus on business, not the day-to-day burden of managing their IT environment.
About SolidSpace, LLC:
SolidSpace, LLC is a leading provider of IT hosting and network solutions, enabling small to mid-size businesses to benefit from Enterprise Level IT services economically. SolidSpace's solutions provide onsite and remote IT services, website, application, and database hosting, managed services, collocation and broadband services. SolidSpace, LLC is headquartered in Winston-Salem, NC and is a portfolio company of SilkRoad Equity LLC. Additional information about SolidSpace, LLC services can be found at http://www.solidspace.com.
About SilkRoad Equity:
SilkRoad Equity is a private investment firm founded by Andrew J. "Flip" Filipowski and Matthew Roszak. SilkRoad Equity targets investments in the areas of technology, life sciences, media and entertainment and real estate, and is comprised of a portfolio of companies that includes: Cryo-Cell International, House of Blues, InterAct911, Mastro Auctions, MissionMode Solutions, onramp Branding, Pendulab, Primo Water, Rakote, SilkRoad technology, SolidSpace, TrueSystems and Vion Mobile. For more information, visit http://www.silkroadequity.com.
###