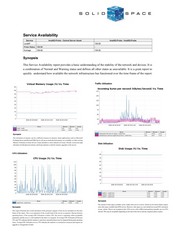 Winston Salem, NC (PRWEB) September 29, 2008
Winston-Salem, NC (PRWEB) September 29, 2008 -- SolidSpace, LLC, a provider of IT hosting and network solutions, launched today Server Health Check, a remote availability and performance monitoring service for any internet connected device or network. Aimed at reducing costly outages by keeping systems administrators aware of patch levels, virus definitions and utilization levels, this new addition to SolidSpace's Managed Services offering is an affordable and powerful tool for any business' IT strategy.
SolidSpace's Server Health Check delivers weekly reports assisting business owners and system administrators in:
Reducing Lengthy Outages
•Weekly reports identify missed patches and virus definitions plus indicate potential hardware issues
•Service failures are noticed within seconds, sending alerts via email or email capable device, helping identify technical issues quickly
Decrease Yearly IT Service Costs
•Supplies busy system administrators vital performance knowledge, allowing them to efficiently plan preventive maintenance strategies for a wide range of operating systems.
•Gain expert guidance from SolidSpace's technical team at a discounted rate, offering a wide knowledge base in network design, migration, and operating system and application maintenance
"Server Health Check is another example of how SolidSpace is dedicated to offering small to mid-size businesses remote operating system monitoring tools that reduce yearly IT costs associated with preventable downtime," stated Todd Hunter, SolidSpace's VP of Technology. "Server Health Check's reports are designed to alert system administrator of troublesome issues before they cause failures, allowing businesses the freedom of proactively addressing IT issues instead of being trapped in a break fix cycle.
About SolidSpace, LLC
SolidSpace, LLC is a leading provider of IT hosting and network solutions, enabling small to mid-size businesses to benefit from Enterprise Level IT services economically. SolidSpace's solutions provide onsite and remote IT services, website, application, and database hosting, managed services, collocation and broadband services. SolidSpace, LLC is headquartered in Winston-Salem , NC , and is a portfolio company of SilkRoad Equity LLC (http://www.silkroadequity.com) Additional information about SolidSpace, LLC services can be found at http://www.solidspace.com .
About SilkRoad Equity
SilkRoad Equity is a private investment firm founded by Andrew J. "Flip" Filipowski and Matthew Roszak. SilkRoad Equity targets investments in the areas of technology, life sciences, media and entertainment and real estate, and is comprised of a portfolio of companies that includes: Cryo-Cell International, House of Blues, InterAct911, Mastro Auctions, MissionMode Solutions, onramp Branding, Pendulab, Primo Water, Rakote, SilkRoad technology, SolidSpace, TrueSystems and Vion Mobile. For more information, visit http://www.silkroadequity.com.
###