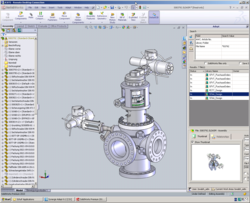 Adept addresses the unique requirements of SolidWorks users by helping them streamline their engineering change processes, improve document control, and reduce overall time to market.
Quakertown, PA (PRWEB) February 09, 2012
Synergis Software, developers of the highly popular Adept product data management (PDM) system, today announced that it will showcase its latest version of Adept family of solutions at this SolidWorks World 2012 at the San Diego, California, Convention Center, February 12-15. Scott Lamond, Vice President of Sales and Marketing and Chris Fabri, Director of Engineering Solutions, will be presenting the newest capabilities of Adept throughout exhibit hall hours at booth #206.
Adept 2011 offers the SolidWorks community tight integration with SolidWorks 2012. "Since 2003, Adept has been a certified Dassault Systèmes SolidWorks Gold PDM Product," says Scott Lamond. "Adept addresses the unique requirements of SolidWorks users by helping them streamline their engineering change processes, improve document control, and reduce overall time to market. For companies with a single or multi-CAD environment, Adept delivers SolidWorks Gold Level integration with SolidWorks at a highly affordable cost."
With the 2011 upgrade, Adept delivers advanced vault replication, two classes of web clients, and integration with Microsoft SharePoint. It improves global enterprise collaboration on critical engineering projects while providing a unified view of data and documents to all stakeholders. Scalability and system performance have been proved significantly.
"Our vault replication is unique in the industry, enabling customers to replicate only the changes between files – not the entire file – to other sites," states Todd Geiser, Adept Product Manager. "Data transfers are faster, collaboration is timelier, and network bandwidth utilization is reduced. This is a huge benefit to companies that share complex 2D drawings and 3D models across multi-sites."
Adept 2011 Release Highlights
-- SolidWorks 2012 integration, with advanced viewing support
-- Vault Replication with Binary Differencing
Adept Vault Replication allows multiple geographic locations to share a common Adept Vault, providing users at any location with fast, local access to files. Replication, which can be scheduled to run at any desired time interval, occurs automatically to ensure users always access the latest version of a document. When binary differencing is enabled, only the changes between files – not the entire file -- are replicated to other sites.
-- Adept Explorer web client's new interface
Adept Explorer, a thin web client that allows users to find, view, print, red-line, assign, and copy documents, has a sleek, new interface with improved controls and graphical components for greater flexibility and ease-of-use.
-- Adept Reviewer web client
Built on the Adept Explorer 2011 platform, Adept Reviewer adds full workflow participation to the Adept web client experience. Users can approve, reject, re-route to a new workflow, expedite approvals, edit metadata, add comments, and more.
-- Microsoft SharePoint Integration
Adept's Integration gives SharePoint 2007 and 2010 users access to files managed by Adept from within SharePoint. SharePoint users have all the capabilities of the Adept's web clients, enabling these users to find, view, print, markup, compare, copy, and, with Adept Reviewer, fully participate in Adept workflows.
-- Powerful Transmittals
Adept's Transmittals make communicating and tracking drawing and document sets to outside contractors, vendors, clients, or internal users easier and more flexible. Users can save and send a Transmittal through the Adept workflow for review and approval, create Transmittal versions, and track Transmittal activities in Adept's audit trail.
Chris Fabri and Scott Lamond will demonstrate these and all the new capabilities of Adept 2011 at booth #206 throughout exhibit hours at SolidWorks World 2012. Private demonstrations can be arranged prior to SolidWorks World by contacting Martha Lubow, Director of Marketing, at martha.lubow(at)synergis(dot)com. Simply email your request to Ms. Lubow with the Subject Line: Private demo at SolidWorks World.
All Adept 2011 products are now available directly from Synergis Software and select resellers worldwide. For more information and pricing for Adept 2011 products, please contact Synergis Software at 215.302.3000 or 800.836.5440.
About Synergis Software
Synergis Software develops, implements, and supports the Adept engineering data management system for the product, plant and facilities lifecycle. Used by more than 30,000 design and engineering professionals from small manufacturers to some of the largest corporations, Adept manages and controls the intellectual property and assets of the world's most competitive companies. For more information, call 800.836.5440/215.302.3000 or visit http://www.SynergisSoftware.com.
###