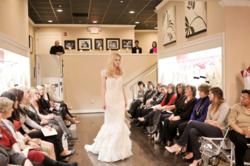 We are excited to host this special event! Not only do brides get a fabulous gown at a great price, but they help support a worthy charity as well.
Herndon, Virginia (PRWEB) June 14, 2013
Perfect for a bride needing a dress in a hurry! Choose one of our Soliloquy Bridal Couture samples for immediate delivery. Reserve a seat at our Sample Sale Fashion Show on Sunday, June 23rd at 12 p.m. or 3 p.m. Samples will be modeled on the Soliloquy Runway and then be available for purchase. Wedding dresses normally priced at $3,000 and up, will be sold at 30%-60% off regular price. A reservation cost a modest $10 per person (tax deductible) with ticket proceeds going to the Bosom Buddy Baskets (IIIB's, or "Three Bees") Breast Cancer Foundation, an organization close to Soliloquy Owner's (a breast cancer survivor) heart. After the show, participants may try on the sale wedding dresses and make an immediate purchase. Samples will be available from each of our amazing collection of designers. Sizes range from size 8 - 18.
HOW IT WORKS:
1. Register for a Fashion Show Ticket
2. Attend the Wedding Dress Sample Sale & Fashion Show and take notes on each dress as it is modeled.
3. After the Fashion Show, 30-minute appointments will be honored in the order of registration. So purchase tickets early! (once a dress has been purchased it will no longer be available for try-on).
4. Walk away with a fabulous designer wedding gown at a great price!
Go to the Events page on our website and reserve your seats today!
About the IIIB's Foundation
The IIIB's Foundation is a non-profit organization dedicated to comforting women going through the pain associated with breast cancer surgery and treatment now. The IIIB's, stands for Bosom Buddy Baskets. Our baskets are personally designed by breast cancer survivor & IIIB's founder Carolyn Cole-Rodenburg, and hand assembled by the IIIB's team.
About Soliloquy Bridal Couture
Soliloquy Bridal Couture is a luxury bridal boutique located in Historic Downtown Herndon, Virginia; serving the Washington DC, Maryland, and Northern Virginia area - DMV area - and beyond. Soliloquy Bridal Couture specializes in carrying designs of renowned, yet hard to find designers. Whether a bride seeks trendy chic, simple elegance, fun and flirty, or spectacularly breathtaking, we have a designer whose creative energy connects with individual expression at Soliloquy Bridal Couture.