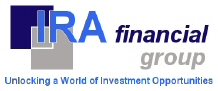 Now our Solo 401(k) clients can establish their self-directed solo 401(k) plan in 48 hours or less
Miami, FL (PRWEB) March 13, 2012
IRA Financial Group, the leading provider of solo 401k Plans, announces that as of March 1, 2012, it will be including its expediting establishment service free for all new solo 401(k) plan clients. "Now our Solo 401(k) clients can establish their self-directed solo 401(k) plan in 48 hours or less, " stated Adam Bergman, a tax attorney with the IRA Financial Group. "Our new free expedited establishment service will allow clients to gain control over their retirement funds quicker than ever before, " stated Mr. Bergman.
A Solo 401K Plan, also known as a self directed 401k Plan, offers a self employed business owner the ability to use his or her retirement funds to make almost any type of investment, including real estate, tax liens, private businesses, precious metals, and foreign currency on their own without requiring custodian consent tax-free! In addition, a Solo 401K Plan will allow one to make high contribution limits (up to $55,500) as well as do a solo 401k loan and borrow up to $50,000 for any purpose.
With IRA Financial Group, one no longer have to spend thousands of dollars to establish an IRS compliant Solo 401k Plan. IRA Financial Group committed to offering our clients customized professional services at a fair and reasonable price and we are able to deliver this by harmoniously blending professionalism, quality and efficiency.
IRA Financial Group will take care of setting up your entire Solo 401k Plan. The whole process can be handled by phone, email, fax, or mail and typically takes between 1-4 days to complete, the timing largely on the custodian holding your retirement funds. IRA Financial and tax and ERISA attorneys are on site greatly reducing the set-up time and cost. Most importantly, each client of the IRA Financial Group is assigned a tax attorney to help with the establishment of the Solo 401k Plan.
The IRA Financial Group was founded by a group of top law firm tax and ERISA lawyers who have worked at some of the largest law firms in the United States, such as White & Case LLP and Dewey & LeBoeuf LLP.
To learn more about the IRA Financial Group please visit our website at http://www.irafinancialgroup.com or call 800-472-0646.