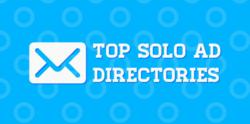 The concept of solo advertising is one method that is helping some companies reach thousands of paying consumers.
Hartford, Connecticut (PRWEB) December 24, 2012
MarketersBlackBook.com has published a new list online to help those that advertise online to find more resources. This new solo ads directory is designed to help companies find the best resources to place single advertisements that can help generate income. Both free and premium solo advertising resources are provided to help advertisers choose an appropriate strategy. The new list can be accessed at http://marketersblackbook.com/email/top-solo-ad-directories-list.
Online advertising is conducted differently compared with television and radio advertisements. Apart from banner advertisements, companies can often struggle with finding promotional methods that can provide returns on the invested funds.
The concept of solo advertising is one method that is helping some companies reach thousands of paying consumers without requiring a large investment budget.
The growing numbers of email software management companies have helped to introduce companies to the concept of consumer email list building. One of the strategies offered in the brand new published list online includes combining the use of email lists with a solo ad. Since these ads can be rented or exchanged with other companies, the use of email lists for advertising is one way that could help a company increase revenue according to the list available.
The 2012 year has been one of growth for the MarketersBlackBook.com company. Through in-person seminars and online training, more companies have been able to put proven strategies into motion to boost online sales revenues. The experts that own and operate this company have expanded into business consulting and training solutions to help companies that are struggling to build products, services and brands online.
The http://www.marketersblackbook.com website is one resource that is now offered to new and existing businesses and entrepreneurs. The lists, guides and training programs that are offered and reviewed on this website represent a portion of the training that this company now provides online.
About Marketer's Black Book
Marketer's Black Book is owned and operated by business professionals that now teach new and existing businesses proven strategies for marketing products and services online. A series of in-person seminars were launched in 2012 and have helped to bring one-on-one training to companies in select cities. Business consulting and training program reviews have been added to the Marketer's Black Book website to help expand the company services that are now offered. New seminars and training programs are scheduled for launch in 2013 to help provide more opportunities for business owners to learn to generate more income online.