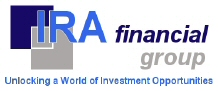 "The solo 401K Plan will allow self-employed individuals the ability to save more for their retirement than any other IRA retirement solution", stated Scott Krokoff
Miami, FL (PRWEB) October 15, 2011
With the recent downgrade of the U.S. credit rating and the sinking U.S. financial markets, many self-employed individuals and small business owners have looked to the solo 401K Plan as a way of diversifying and gaining more investment control over their retirement assets. "No longer is allocating all ones retirement assets to wall street investments believed to be a sound financial decision, diversification is now more important than ever", stated Scott Krokoff, tax attorney at the IRA Financial Group.
A solo 401K Plan, also known as an individual 401K or Self Directed 401K Plan offers a self employed business owner the ability to use his or her retirement funds to make almost any type of investment, including real estate, tax liens, private businesses, precious metals, and foreign currency on their own without requiring custodian consent tax-free! In addition, an Individual 401K Plan will allow you to make high contribution limits (up to $54,500) as well as borrow up to $50,000 for any purpose.
Specifically the IRS designed the solo 401K Plan for the self-employed or small business owner with no employees. A Solo 401K plan offers the same investment diversification advantages as a Self Directed IRA LLC, but without having to hire a custodian or create an LLC.
"The solo 401K Plan will allow self-employed individuals the ability to save more for their retirement than any other IRA retirement solution," stated Scott Krokoff. With an Individual 401K Plan, a self-employed individual can make annual contributions of up to $49,000 ($54,500 if the individual is over the age of 50). Compare this to a Traditional IRA where the limit is $5,000 annually ($6,000 if the individual is over the age of 50). In addition, to the high contribution limit, the Individual 401K Plan will allow one to borrow up to $50,000 from the 401(k) Plan for any purpose with no tax and penalty.
For clients of the IRA Financial Group, one of the most popular features of the solo 401K Plan, is the ability to make traditional as well as non-traditional investments such as real estate, precious metals, tax liens, and much more tax-free and without the consent of a custodian. "In light of the recent Wall Street meltdown, the solo 401K plan provides an attractive diversification tool for investors looking to diversify and protect their retirement portfolio", stated Fred Horner of the IRA Financial Group.
The IRA Financial Group was founded by a group of top law firm tax and ERISA lawyers who have worked at some of the largest law firms in the United States, such as White & Case LLP and Dewey & LeBoeuf LLP.
IRA Financial Group is the market's leading "Checkbook Control" Self Directed IRA and Solo 401k Plan Facilitator. We have helped thousands of clients take back control over their retirement funds while gaining the ability to invest in almost any type of investment, including real estate tax-free and without custodian consent!
To learn more about the IRA Financial Group please visit our website at http://www.irafinancialgroup.com or call 800-472-0646.
# # #