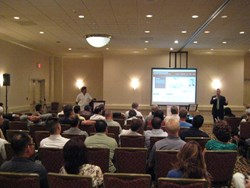 Experience the Freedom of a Retirement Account with Checkbook Control
Glendale, CA (PRWEB) November 06, 2012
Get year-end tax planning tips on how to keep more money and pay less in taxes at the next meeting of the Best Real Estate Club. Three local investing experts will teach investors how to make their money work harder for them so that it can grow faster and help them achieve financial independence sooner.
On Wednesday, November 7, 2012 Dmitriy Fomichenko, president of Sense Financial Services, California's premier provider of retirement accounts with checkbook control, will be a guest speaker at the Best Real Estate Club's event on Year-End Tax Planning Strategies to Help Maximize Profits. This will be the first meeting of Los Angeles' newest real estate club, Best Los Angeles Real Estate Club. Participants will have a unique opportunity to share valuable information on real estate investing, network with like minded investors and meet with local and regional real estate experts. The event is free and open to all Southern California investors. The Seminar will be held in the Robert Hall & Associates Building in the meeting room on the 3rd floor from 6:30 PM to 8:30 PM (PDT). Those wishing to attend are encouraged to register and reserve their spot today. Seating is limited.
http://bestrealestateclub.eventbrite.com
Along with the host Reggie Lal, owner of Be The Smart Investor and an experienced real estate investor with an impressive portfolio, Mr. Fomichenko will also share the stage with Tony Watson, a federally licensed tax practitioner from Robert Hall & Associates. The three men will share with attendees what financial moves they should be making as the year comes to a close. A market update, taxable income deductions, tax saving strategies for real estate investors, asset protection information will also be discussed.
Mr. Fomichenko will be speaking on the topic of the Solo 401(k). With a Solo 401(k) Plan, self employed individuals and small business owners with no full-time employees can have complete control over their retirement investments. As the trustee of their retirement plan, and having "checkbook control," they can use the money in their Solo 401k to make tax-deferred investments in real estate or other non-traditional investments such as tax-liens, start-up businesses, hard money loans, precious metals and much more.
Money, and profits from the investments, are kept inside the Solo 401k until the owner reaches retirement age. Each year, users are allowed to contribute up to $55,500, and may borrow up to $50,000 at any time and for any purpose. Additionally, spouses can contribute to the Solo 401k if they are involved in the business, and there's no need to hire a custodian to keep tabs on the plan. This is an optimal way to achieve a more diversified investment portfolio while managing complete control over the investments.
Sense Financial is the California's leading provider of retirement accounts with "Checkbook Control": Solo 401(k) and Checkbook IRA. Over the years they assisted hundreds of clients obtain checkbook control over their retirement accounts while providing them the ability to invest in virtually any investment class, including real estate, private lending, mortgage notes and much more without the need for custodian approval!
The company was founded to assist middle-American families with planning for their future. The concepts they teach and promote are based on proven Biblical principles:

Get out of debt (The borrower is servant to the lender. Proverbs 22:7)
Set Goals (Good planning and hard work lead to prosperity… Proverbs 21:5)
Invest for the future (The wise man saves for the future, but the foolish man spends whatever he gets. Proverbs 21:20)
Diversify your investments (Divide your portion to seven, or even to eight, for you do not know what misfortune may occur on the earth. Ecclesiastes 11:2)
From the years of experience they found that following these time tested principles will lead to financial success. However, violation of these principles will bring financial failure.
To learn more information about self directed retirement accounts with checkbook control, please visit http://www.sensefinancial.com