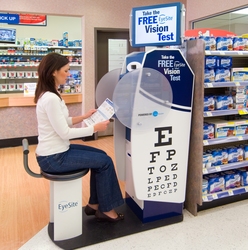 We view eye health education as an important part of our mission
Atlanta, GA (PRWEB) April 16, 2009
SoloHealth (http://www.solo-health.com), maker of EyeSite™ self-service vision testing and new patient generating kiosks, announced today it will team with Transitions Optical, Inc., Optos, and other leading eye care companies to deploy a large number of its award-winning EyeSite kiosks in a major US market this summer. EyeSite is an innovative vehicle that has the potential to stimulate the eye care category and drive patients to eye care professionals because it offers free, simple and quick vision assessments coupled with education on the need for a comprehensive eye exam. Manufacturers can also market products on the interactive kiosks, which are placed in a variety of locations meant to capitalize on consumer demand and traffic. EyeSite kiosks allow consumers to assess their near and far vision, schedule an appointment with a local eye doctor, and learn about general eye health conditions--all in about five minutes.
"We view eye health education as an important part of our mission," said Dave Cole, general manager of the Americas, Transitions Optical. "As consumers better understand the importance of taking care of their eyes, they're more likely to make regular appointments. EyeSite is free and convenient, and has real potential to stimulate interest in vision care and increase the number of patients practitioners see."
"Self-service is growing in popularity and partnering with SoloHealth, an innovator in the self-service market, gives us one more tool to reach out to patients and consumers," according to Tom Daniells, VP of Marketing at Optos. "Because EyeSite vision screenings do not replace a full eye exam, we feel it will drive traffic to eye care practitioners, resulting in opportunities for increased sales of products and medical services including our retinal imaging technology."
Established in late 2007, SoloHealth has placed EyeSite kiosks throughout its home base of Atlanta in retail locations such as Walgreens, Kroger, Walmart and regional malls. Since September of 2008, SoloHealth has screened over 100,000 people.
"SoloHealth, combined with these eye care industry leaders, is helping to create new ways to drive additional traffic," said Bart Foster, CEO and founder of SoloHealth. "Results have shown that of the people who have used the EyeSite kiosk, over 25 percent have never visited an eye care professional. Many of those have gone on to book appointments. EyeSite self-service vision testing kiosks educate people about the health benefits of seeing an eye doctor on a regular basis."
About SoloHealth
SoloHealth (http://www.solo-health.com) is an early stage startup in Atlanta, GA that is positioned to capitalize on the growing consumer preference for self-directed healthcare services. SoloHealth's inaugural product is EyeSite™, an interactive kiosk that provides vision health information, as well as a customized vision report, and also directs consumers to an eye care professional nearby.
The company has garnered many awards, earning a spot in the top 5 of Forbes.com's 2008 "Boost Your Business" entrepreneurial contest, chosen from over 1500 companies nation-wide. EyeSite has won three Awards of Excellence, including "Best in Show" at the Kiosk.Com Self Service Expo and The Digital Signage Show in Las Vegas. SoloHealth was also selected as one of the 2008 "Top 40" Innovative Technology companies in Georgia by the Technology Association of Georgia (TAG) (http://www.tagonline.org), the state's leading technology organization. SoloHealth also was accepted for membership by Georgia Tech's Advanced Technology Development Center (ATDC) (http://www.atdc.org) in 2008.
About Transitions Optical, Inc.
Transitions Optical, headquartered in Pinellas Park, Fla., was the first to successfully commercialize a plastic photochromic lens in 1990. As the leading provider of photochromics to optical manufacturers,
Transitions Optical offers the most advanced photochromic technology in the widest selection of lens designs and materials.
Transitions Optical's core product line, Transitions® lenses, are the #1-recommended photochromic lenses worldwide. As higher-performing everyday clear lenses, Transitions lenses change from clear indoors and at night to sunglass dark outdoors in proportion to the intensity of UV light. Transitions Optical also offers several special-purpose dynamic sun lenses that change from a tinted state indoors to a darker state outdoors when activated by UV light. These lenses are marketed as Transitions® SOLFX™ sunlenses.
For more information about the company and Transitions lenses, the first to earn the World Council of Optometry's Global Seal of Acceptance for Ultraviolet Absorbers/Blockers and the American Optometric Association's Seal of Acceptance for Ultraviolet Absorbers/Blockers, visit http://www.transitions.com.
About Optos
Optos plc is a leading medical retinal imaging technology company. Both eye and non-eye diseases often first exhibit in the periphery of the retina. These are very difficult to detect clinically with conventional examination equipment and techniques. Optos' devices produce ultra wide-field, high resolution images of approximately 82% of the retina, something no other device is capable of doing in any one image. The images provide optometrists and ophthalmologists with enhanced clinical information which facilitates the early detection, management and treatment of disorders and diseases evidenced in the retina such as retinal detachments and tears, glaucoma, diabetic retinopathy and age-related macular degeneration. Retinal imaging can also indicate evidence of non-eye or systemic diseases such as hypertension and certain cancers. For more information, visit http://www.optos.com.
Transitions is a registered trademark of Transitions Optical, Inc. Optos is a registered trademark of Optos, plc.
# # #