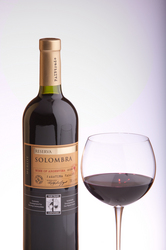 Evaki specializes in finding the best values out there based on wine quality and price.
San Luis Obispo, CA (PRWEB) March 26, 2009
San Luis Obispo wine importers, Evaki Imports, announced the release of their newest Argentinean Fair Trade Wine offering, Solombra Reserva, which will retail at select locations in the United States for under $8 a bottle.
In speaking with Evaki Imports vice president, Chris Knauer, about Solombra, Knauer echoed the earlier positive press findings on the release of Solombra wine. "Evaki specializes in finding the best values out there based on wine quality and price." Chris stated. "We have accomplished that with Solombra. Evaki's strength is sourcing wine, and Solombra's source is a little region in Argentina (the Famatina Valley) that has a beautiful winery - the La RioJana Cooperative, where they provide tremendous quality wine at very attractive pricing that allows us to offer Solombra to the American consumer for very low retail. Essentially, Solombra Fair Trade wine is a $20 - $25 bottle of wine that you can buy for less than $8 a bottle. Really, Solombra is a great find."
The first Fair Trade wine release for Evaki, Chris continues on the importance of Fair Trade and how it is helping the villagers of the La RioJana Cooperative. "Fair Trade is a certification that guarantees that the winery holds to fair working conditions for the workers, sustainable farming standards for the vineyard, and, conversely, that the purchasers of La RioJana's wine also ensure a fair price for the product." "On our end," he continues, "that means for every bottle of Solombra purchased, Evaki has committed to buying one brick to help the La RioJana Cooperative build their community hospital between the towns of Tilimuqui and Chilecito."
Starting mid-March, Solombra will be offered at select retail locations throughout the United States.
Solombra Reserva is offered in both Merlot and Pinot Grigio for under $10 a bottle at select U.S. locations.
For more information on Evaki Imports, please visit: http://www.EvakiImports.com
For more information on where to find or try Solombra Fair Trade wine, please visit: http://www.SolombraFairTradeWine.com
###