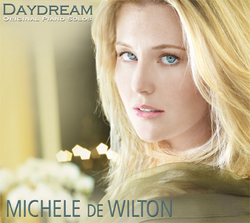 Michele's original piano style transports the listener away to a place of peace and serenity. Daydream is the perfect salve to today's stressful world.
Columbus, OH (PRWEB) March 15, 2011
Today, solo pianist and composer Michele de Wilton announced the release of her new album, DAYDREAM, along with her new artist's blog, "everyday serenity," and new music video, "Shimoda." The independent artist also announced the first couple of dates on her upcoming piano tour – scheduled to take place in some of the United States' most exquisite gardens – including May 22, 2011 at the Franklin Park Conservatory in Columbus, Ohio and June 7, 2011 at the Chicago Botanic Garden in Chicago, Illinois.
Jim Brickman, renowned pianist and fellow Ohioan, commented on de Wilton's new album, saying, "Michele's original piano style transports the listener away to a place of peace and serenity. Daydream is the perfect salve to today's stressful world."
DAYDREAM, with its eleven original piano solos, continues a signature theme that de Wilton presented in her first album, "Myths & Legends" (2009), which debuted at 19 on the The Zone Reporter New Age/Ambient/World Top 100 chart. Growing up in Cape Town, Athens, London, and Chicago as the child of an accomplished artist, de Wilton gathered a seemingly endless collection of romantic, mystical and sometimes tragic tales, which she brings to life in her captivating piano compositions and recordings.
"I understand that it's a challenge to find serenity when, for instance, you're snowbound with sick kids," de Wilton offers, referring to her own everyday life challenges. "Serenity isn't about escaping to a spa, it's about tapping into an inner self that transcends the stress of daily life. My music transports me – it's my doorway to serenity."
The album's first music video – "Shimoda" – debuted online three weeks ago, and judging from the high number of early views, it promises to be as popular as her first video, "The Ice Maiden." With that video, de Wilton debuted her talent in understanding, translating and dramatizing timeless tales in a brand new way. For "Shimoda," de Wilton says she was captivated by the legend of Okichi, a Japanese heroine who lived and died in Shimoda. In imagining Okichi, de Wilton found herself drawn to compose a piece in pentatonic scale, using only the piano's black keys, to capture both the beauty of the city of Shimoda and the poignancy of Okichi's story of love lost. Eventually, Okichi's legend became the basis for Giacomo Puccini's famed opera, Madame Butterfly. The video, currently available on the artist's website and YouTube, is slated for release to Adult Contemporary video outlets via DMX video distribution and other private video networks. Veteran music reviewer Michael Diamond commented on the video, "Shimoda is exquisitely done and wonderfully relaxing."
Living passionately and cultivating a sense of beauty in life is high on de Wilton's wish list for her fans. Her new blog, titled "everyday serenity," provides insight to de Wilton's personal approach to incorporating beauty and serenity into her busy family life, while giving fans an intriguing look at the stories behind her music. For instance, referring to her piece "Heaven's Bridge," de Wilton writes, "I was inspired by the burning 'rainbow bridge' that connects the human world and the realm of the gods in Norse mythology…" adding that the song "uses runs of arpeggios to represent the arch of the bridge, as well as the movement of the gods between the worlds. I also sought to capture the bridge's majesty in the song's melody; it is, by far, the 'biggest' piece on the album."
As in her blog, the artist's redesigned website and newsletter project the refreshing elegance of the artist, offering fans an array of free musical e-cards and ongoing promotional offers including sneak peeks at her forthcoming album for Holiday 2011.
In his review of DAYDREAM, Michael Diamond wrote, "…Michele's music definitely evokes images in the mind of the listener… Michele has accomplished a lot in a relatively short span of time, and I'm sure she has many enchanting tales yet to tell."
DAYDREAM, a solo piano album, is available on iTunes, Amazon, CDBaby, and the artist's website; CPI Distribution handles retail distribution (http://www.cpidistribution.com).
Links:
Artist's site: http://www.micheledewilton.com
Video: http://www.micheledewilton.com/Videos/tabid/1037/Default.aspx
Blog: http://www.micheledewilton.com/NewsBlog/tabid/1034/BlogID/16/Default.aspx
Song clips & store: https://www.brickmanmedia.com/micheledewiltonstore/Store/tabid/1644/List/1/Default.aspx?SortField=ProductNumber,ProductName
Facebook: Facebook Fan page
CD Baby: http://www.cdbaby.com/Artist/MicheledeWilton
Franklin Park Conservatory: http://www.fpconservatory.org/index.htm
Chicago Botanic Garden: http://www.chicago-botanic.org/
Media Contact:
Beth Hilton, Publicist
The B Company
310-560-8390
bethhilton(at)thebcompany(dot)com
###