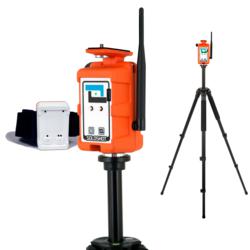 "I have rigged up every type of self video situation available but nothing compares to the SOLOSHOT," said Olympic Sprint Kayaker Tim Hornsby.
San Antonio, TX (PRWEB) August 01, 2012
With the 2012 Olympics underway in London, Olympic athlete Tim Hornsby, a 26-year-old Atlanta native who now resides in San Diego, only has one thing on his mind – a gold medal. As the Team USA Olympic Sprint Kayaker prepares to fulfill his lifelong dream, the SOLOSHOT automatic cameraman will be right there with him filming all of his high-speed action. Soloshot Inc. is proudly sponsoring Hornsby as he goes for the gold in the Sprint Kayak, K1 200m. Hornsby uses SOLOSHOT to train as he eyes a gold medal. The new two-piece tracking system combines with virtually any camera to automatically track and film a moving subject from up to 2000 feet away moving at speeds as high as 140 mph. Hornsby has credited SOLOSHOT for allowing him to train better by capturing high quality action video of himself.
"I have rigged up every type of self video situation available but nothing compares to the SOLOSHOT," said Olympic Sprint Kayaker Tim Hornsby. "I truly believe SOLOSHOT will be instrumental in my success at the 2012 Olympic Games in London," concluded Hornsby.
SOLOSHOT is easy to use and great for any level athlete or sports enthusiast as well as coaches or parents who want to film their kids' little league games without manually operating a camera for hours. Filmmakers can also use SOLOSHOT as away to get additional dynamic angles of their scenes without the need for more camera operators. Simply mount a camera to the tripod base and slide the armband on to the subject. After an easy pairing sequence, the base automatically rotates as needed to continually keep the camera pointed at the subject wearing the armband. Soloshot Inc. was founded by board-sport loving engineers Chris Boyle and Scott Taylor who wanted an easy way to get video footage of themselves surfing.
"We are incredibly excited to have Tim Hornsby represent Soloshot Inc. at the 2012 Olympics and we are honored that our SOLOSHOT automatic cameraman helps contribute to Tim's training so he can win the Gold for Team USA in Sprint Kayaking," said Soloshot Inc.'s President Scott Taylor.
SOLOSHOT's maximum rotating speed is 40 degrees per second and the internal rechargeable batteries last more than five hours. The pairing sequence allows many SOLOSHOT systems to be used in the same location without interference. Any camera, up to five pounds, that can attach to a standard tripod will attach to the SOLOSHOT base. A bright LED on the base shines in the direction the camera is pointing letting the subject wearing the armband know the camera remains pointed at them. A custom waterproofing and shock-proofing technique, developed by Soloshot Inc., allows the armband sensor to withstand the most demanding ocean and sporting environments. The one-size-fits-all elastic armband strap is comfortable and made of non-corrosive nylon. The included professional tripod extends to five feet tall and features collapsible legs for easy traveling and has a wide stance option for windy days. The charger fits U.S. outlets and works with international outlets up to 220V with a standard adaptor (adaptor not included).
Anyone can pre-order SOLOSHOT off the new high volume, USA-based production line at a discounted price through August 30 by visiting the SOLOSHOT project on Kickstarter.com – the world's largest crowd funding platform for creative projects. Units also are available for immediate shipping on the SOLOSHOT website at the normal price.
SOLOSHOT is available for $479 at http://www.soloshot.com or on Kickstarter as low as $299. Like SOLOSHOT on Facebook, follow them on Twitter or see more action videos on the SOLOSHOT YouTube Channel.
Media Contact
Ria Romano, Partner
RPR Public Relations, Inc.
Boca Raton, FL
Tel. 786-290-6413