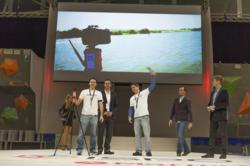 "Before we created SOLOSHOT, there was no way to automatically film yourself from a distance without a cameraman," SOLOSHOT Co-Founder Scott Taylor added.
San Antonio, Texas (PRWEB) February 19, 2013
SOLOSHOT, the innovative automatic tracking system for a camera, has won the coveted ISPO BRANDNEW Award for the best new accessory of the year in Munich, Germany. SOLOSHOT, the first ever commercially available automatic filming system for athletes, lets users film their movement by automatically keeping their camera pointed towards them, from a distance, without a cameraman. Twelve international experts selected SOLOSHOT as the most innovative accessory newcomer from 255 entries. For more than a decade, the ISPO BRANDNEW Award has been regarded as the leading indicator of future trends and a sought-after opportunity for entrepreneurs to exhibit their new products on a global scale. The ISPO BRANDNEW contest is part of ISPO MUNICH, an international tradeshow attracting more than 2,000 exhibitors and over 80,000 visitors from more than 100 countries. SOLOSHOT was selected by experts as the best new sporting goods accessory because of its exceptional product development, high degree of innovation, unique design, multiple brand features, strong market potential and excellent marketing. Like SOLOSHOT on Facebook or watch SOLOSHOT in action on YouTube at http://www.youtube.com/soloshotvideo.
"It is a great honor in our industry to be awarded the prestigious ISPO BRANDNEW Award in front of some of the biggest names in action sports and our entire SOLOSHOT team is incredibly stoked," said SOLOSHOT Co-Founder Chris Boyle. "SOLOSHOT was conceived on a surf trip to the British Virgin Islands and our team is built of friends made while surfing and kiting the beaches of Cabarete in the Dominican Republic. The recognition from our industry peers really means a lot to us," concluded Boyle.
"Before we created SOLOSHOT, there was no way to automatically film yourself from a distance without a cameraman," SOLOSHOT Co-Founder Scott Taylor added. "We're excited that the international reaction to the SOLOSHOT revolution has been outstandingly positive and ISPO Munich has been an amazing launching pad to roll out distribution to our retail partners worldwide."
SOLOSHOT delivers high quality video footage without requiring someone to hold a camera for hours. Launched in 2012, the automatic filming system quickly became popular with those who enjoy surfing, kite-boarding, wake-boarding and other water sports. SOLOSHOT soon gained in popularity with all those who enjoy action sports, snow sports, field sports and even parents who are now able to effortlessly film youth sporting events. SOLOSHOT automatically keeps a camera rotated towards an athlete and is compatible with almost any camera, including iPhone and smartphone cameras with a third party tripod adaptor. SOLOSHOT automatically tracks and films moving subjects at speeds as fast as 140 mph, from distances up to 2000 feet, and has a maximum rotating speed of 40 degrees per second. The high tech tripod base communicates with a small waterproof and shock-proof transmitter that is attached to a comfortable, one-size-fits-all armband any athlete can wear. After an easy pairing sequence, the base automatically rotates as needed to continually keep the camera pointed at the athlete wearing the armband.
SOLOSHOT is made in the USA in San Antonio, Texas and the MSRP is $479. Visit http://www.soloshot.com for more information.
Media Contact
RPR Public Relations, Inc.
Tel. 786-290-6413