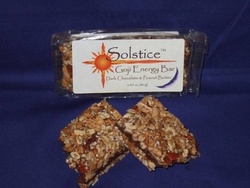 My jaw just about hit the floor
Corvallis, OR (PRWEB) February 20, 2009
Solstice Bakery, maker of widely acclaimed Solstice™ Goji Bars, is proud to announce that President Barack Obama is a fan of their meal replacement bars. Multiple customers have reported seeing President Obama eating Solstice™ Goji Bars, both in his home town of Chicago and on the campaign trail.
One customer on the campaign trail noticed how energized then-Senator Obama always seemed to be and spotted him enjoying a "breakfast bar" that he'd never seen before. The customer retrieved the wrapper, was impressed by the wholesome organic ingredients, and placed his first order online. A short time later he called to order his second case, revealing how he discovered his new favorite meal replacement bar.
"My jaw just about hit the floor," said co-founder Reiner Bohlen. "I knew that we had a product that appeals to a wide audience, but for the man who would become President of the United States to enjoy our bars… You could have knocked me over with a feather!"
Separately, a retailer in Chicago confirmed that the Dark Chocolate & Peanut Butter Goji Bars are President Obama's favorite Solstice™ Bar. The retailer told Solstice Bakery how then-Senator Obama gave them a ribbing when the bars had sold out one day. "Where are my bars?" he quipped. "I just ordered a new batch," the retailer replied, "Watch them get here right after you leave." Ten minutes after he left, the new delivery arrived.
It's not just the President of the United States that enjoys Solstice™ Goji Bars. They also have quite a Hollywood and national following: from the set of the newest Indiana Jones film to trendy athletic clubs in Los Angeles, Chicago, and Manhattan, to the gift bags at the Academy Awards. Solstice™ Goji Bars are quickly becoming the new "it" bar!
Solstice™ Goji Bars are all-natural meal replacement bars that blend great nutrition with fantastic taste, primarily because they are hand made in small batches using minimally processed ingredients. Solstice Bakery is so proud that unlike most bars, Solstice™ Bars are packaged in clear wrappers so customers can "See the Goodness!"™ before they buy them.
Each bar has 15 grams of whole grains, 800 - 1300 mg of omega-3 fatty acids, 6 - 9 grams of fiber, 7 - 9 grams of protein, and a full day's supply of antioxidants from Goji berries and Belgian dark chocolate. With whole grains, nuts, and dried fruit, Solstice™ Goji Bars pack more of a punch than their small size would indicate, keeping customers satisfied for hours.
Solstice™ Goji Bars were created by Reiner and Stephanie Bohlen in an attempt at "stealth health" with their 7-year-old son. "How do you get antioxidants and omega-3's into a picky boy?" asks Stephanie, "It was quite a challenge." Eleven recipes later, in the summer of 2006, they had created their top-selling Dark Chocolate & Peanut Butter Goji Bar. Solstice Bakery released their Dark Chocolate, Cherry & Almond Goji Bar in January of 2008, and their Mochadamia™ Goji Bar in October of 2008.
For additional information about Solstice™ Goji Bars, or to inquire about a free sample for press, retailers, or distributors, please contact Reiner Bohlen.
Contact:
Reiner Bohlen, Co-Owner
Solstice™ Bars
541-753-7221
http://www.solsticebars.com
# # #