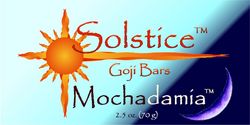 How do you get antioxidants and omega-3's into a picky boy?
Corvallis, OR (PRWEB) October 21, 2008
Solstice Bakery, producer of widely acclaimed Solstice™ Goji Bars, is proud to announce the availability of their newest Solstice™ Goji Bar, the Mochadamia™: a sophisticated meal replacement bar that sandwiches a layer of Callebaut Dark Chocolate and Organic Espresso between two crunchy, agave-sweetened cereal layers with roasted macadamia nuts and goji berries.
The Mochadamia™ Bar is designed for customers looking for a refined, "grown-up" meal-replacement bar that doesn't sacrifice flavor or nutrition. Dark chocolate and organic espresso-roast coffee beans give a mild boost, while whole grains, nuts, and seeds provide long-lasting energy. Roasted macadamia nuts round out the flavor and texture profile.
Like its siblings, the Mochadamia™ is an artisan meal replacement bar, made by hand in small batches in Corvallis, OR. It's all-natural, vegan, made with minimally processed ingredients, and has a full day's supply of antioxidants. Most importantly, it gets rave reviews from happy tasters.
"I knew we had a fantastic product that appealed to a wide audience," Solstice Bakery co-founder Reiner Bohlen explained, "but my jaw hit the floor when a number of our customers told me that they had seen Senator Barack Obama enjoying our Dark Chocolate & Peanut Butter Goji Bars. Of course, when you have the kind of grueling schedule that Senator Obama does, you absolutely need great nutrition.
"It's been gratifying to hear from such a diverse group of customers who rely on our bars," he continued, "From celebrities at the Night of 100 Stars Academy Awards Party to hunters in the back country. From endurance athletes to folks who heat the bars up with a dollop of vanilla yogurt for a nutritious dessert. And we've heard quite a bit from busy folks who don't always have time for a nutritious meal while they're out and about."
Solstice™ Goji Bars were created by Reiner and Stephanie Bohlen in an attempt at "stealth health" with their 7-year-old son. "How do you get antioxidants and omega-3's into a picky boy?" asks Stephanie, "It was quite a challenge." Eleven recipes later, in the summer of 2006, they had created their top-selling Dark Chocolate & Peanut Butter Goji Bar. Solstice Bakery released their Dark Chocolate, Cherry & Almond Goji Bar in January of 2008, and their Mochadamia™ Goji Bar in October of 2008.
For additional information about Solstice™ Goji Bars, or to inquire about a free sample for press, retailers, or distributors, please contact Reiner Bohlen.
Contact:
Reiner Bohlen, Co-Owner
Solstice™ Bars
541-753-7221
http://www.solsticebars.com
###