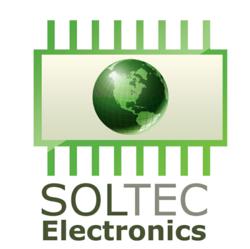 Being certified to AS9120 positions us to meet and exceed the stringent part and process requirements of our aerospace and military clientele
Rockledge, FL (PRWEB) April 25, 2012
SolTec Electronics, an industry leading independent distributor of electronic components and aerospace parts, has announced its certification to the comprehensive military and aerospace quality standard, AS9120. AS9120 is used by organizations that procure and distribute parts for customers in the aerospace industry and demonstrate a strong focus on areas impacting product safety and reliability, such as: traceability, controls of records, airworthiness certificates, batch splitting, and evidence of conformance.
"Being certified to AS9120 positions us to meet and exceed the stringent part and process requirements of our aerospace and military clientele," says Dave Gluskin, COO of SolTec Electronics, who spearheaded the internal documentation and certification process.
SolTec Electronics has been recognized as a cutting-edge organization in the industry due to their stringent quality control initiatives. SolTec Labs, in-house electronic component testing facility and sister company, utilizes advanced techniques for detecting and avoiding counterfeit electronic components, which is a pertinent process in cases where full traceability and conformance paperwork is not available on parts.
SolTec Electronics sells directly to the DLA (Defense Logistics Agency) and has recently been nominated for the New Contractor of the Year award. They are an approved supplier for NASA, Harris, and a slew of other aerospace and military clients on Florida's Space Coast and beyond. They look forward to expanding these current partnerships and developing new opportunities as a result of the AS9120 certification.