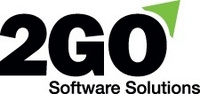 The 2GO mobile platform represents a significant opportunity for many of our clients with employees in the field to increase sales, decrease costs and improve service delivery quality
PLANO, Texas (PRWEB) June 4, 2008
"We are excited about adding Pariveda Solutions as an integration partner for our mobile platform. Their expertise in enterprise applications and providing seamless integrations is a welcomed benefit to both our customers and also to 2GO Software channel partners who sell our products," said Anthony Davis, 2GO Software's CEO.
"The 2GO mobile platform represents a significant opportunity for many of our clients with employees in the field to increase sales, decrease costs and improve service delivery quality," said Bruce Ballengee, Pariveda's CEO.
About 2GO Software:
Based in Plano Texas, 2GO Software Solutions is the developer of on-demand mobile applications for businesses that deploy field service and field sales associates. The 2GO Software mobile platform is unique in that it can be integrated into existing software platforms in days or weeks versus the months or years required by traditional mobile platforms. For more information about 2GO Software, visit the company web site at http://www.2gosoftware.com.
About Pariveda Solutions:
Pariveda Solutions is in the Business of IT™ offering technology strategies, project management, business intelligence and applications development solutions. As a trusted advisor to clients, Pariveda assists businesses and their IT organizations to optimize their value chain from supplier management through service delivery, and from demand management through customer management. For more information, visit the company web site at http://www.parivedasolutions.com.