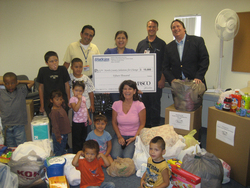 Solutions for Change has a 10-year track record of successfully helping homeless families transition into the community, find work and put their lives back together
Vista, CA (Vocus) September 8, 2009
During this past August, the employees of Vista-based Watkins Manufacturing filled the company's hallways with bedding, cleaning supplies, personal hygiene items, clothing, food and school supplies. On Friday, August 28, Watkins representatives delivered over 20 boxes to North County Solutions for Change, along with a check for $15,000. The check was a grant from Watkins Manufacturing's parent company, Masco Corporation, according to Sandra Shuda, Vice President of Human Resources for Watkins, maker of Hot Spring Spas and Caldera Spas.
"Our company has been an active supporter of Solutions for Change for several years. We appreciate the proactive way they're creating a solution for homeless families in Vista. When the Masco Corporation Foundation invited its subsidiaries to apply for grants to help local organizations devoted to ending homelessness and hunger during these tough economic times, we knew immediately who our candidate would be," said Shuda.
"Solutions for Change has a 10-year track record of successfully helping homeless families transition into the community, find work and put their lives back together," said Shuda, who added that Solutions for Change was founded by Chris and Tammy Megison with a mission to ensure that every child has a home.
"Chris and Tammy developed a Solutions University model around '1,000 days to a permanent solution.' Participating families spend 500 days on the Solutions for Change campus and 500 days off campus. They don't service people, they create partnerships between the families and the community. That made the biggest impact on our company: they're solving family homelessness for kids and communities, permanently. They're seeking permanent solutions and thinking 10 to 20 years out. It's all about breaking the cycle of homelessness," said Shuda.
The Solutions for Change campus is a series of apartments built and designed to have a community feel, according to co-founder Chris Megison. It was built with $6.5 million in donations. "We equip people with the skills, knowledge and resources to help them solve the reasons that got them to where they are. Our clients are held 100% accountable for their recovery. So far, we have helped 542 families solve their homeless situation through the program. The donations and this generous grant from Watkins will help us continue and build on that success."
"When people ask why Watkins supports North County Solutions for Change, I tell them it all comes down to the results. I've seen first-hand how Chris and Tammy run the organization. I've talked with people who are in the program. If we didn't see results, we wouldn't be contributing. But the results are there and Watkins will continue to assist and advocate for this outstanding local cause."
About Watkins Manufacturing
Established in 1977, Vista, Calif.-based Watkins Manufacturing Corp. is the world's largest manufacturer of hot tubs, which includes Hot Spring® Spas, Caldera® Spas, Limelight™ Hot Tubs, Tiger River® Spas, Solana® Spas, and Hot Spot® Spas. Watkins' worldwide dealer network of sales and service centers is in all 50 states, Canada and more than 65 other countries. Watkins is a division of Masco Corporation, a Fortune 500 company whose quality products include Delta® faucets, KraftMaid® cabinets and Behr® paints.
About North County Solutions for Change
Founded in 1999, the purpose of the Solutions for Change organization is to equip families with the skills, knowledge and resources needed to solve homelessness, permanently. The organization has developed three separate but integrally connected programs that provide a new and innovative model in dealing with an old and complicated social problem: homelessness. The model, called the Solutions University, uses an integrated and holistic approach that provides both the family in crisis and a community seeking answers with access to permanent solutions. The Solutions University provides a continuum of affordable housing, intense educational and skill building practicum and life skill coaching strategies all within one plan. The combination of integrated solutions (family health, decent affordable housing and jobs) delivered within a 1000 day strategic partnership solves family homelessness, one family, and one community at a time.
###