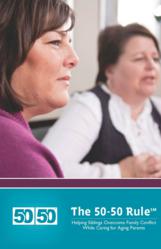 In 43 percent of U.S. families, one sibling has the responsibility of providing most or all of the care for Mom or Dad.
Omaha, NE (Vocus/PRWEB) March 22, 2011
Sharing isn't always easy for brothers and sisters who grow up under the same roof. Divvying up the wealth of toys, bedrooms or vehicles may have been a challenge at home, and sharing the daily household chores could have led to family conflict as well.
Some things never change. According to research conducted for the Home Instead Senior Care network, 46 percent of family caregivers who say their relationships with siblings have deteriorated blame unwillingness on the part of siblings to provide help.
Making decisions together, dividing the workload and teamwork are the three key factors to overcoming family conflict, according to the organization's research.
Ingrid Connidis, Ph.D., from the University of Western Ontario has partnered with Home Instead Senior Care to develop the 50-50 Rule(SM) public education program to help siblings deal with the many issues of caring for a parent.
"Senior caregiving can either bring families together or cause brother and sister conflict," according to Connidis. "In some cases it can do both. These issues can be very emotional."
According to the website Caring.com, family feuds often revolve around the following areas:
-- Roles and rivalries dating back to childhood -- Mature adults often find that they're back in the sandbox when their family gets together. This tendency can grow even more pronounced under the strain of caregiving.
-- Disagreements over an elder's condition and capabilities -- It's common for family members to have very different ideas about what's wrong with a loved one and what should be done about it. Take, for example, seniors and driving. You may be convinced that your family member is no longer capable of driving, while your brothers argue that he needs to maintain his independence. Your sister may not agree on the care that you and your mother have decided upon and be unwilling to assist as a result.
-- Disagreements over financial matters, estate planning, family inheritance and other practical issues -- How to pay for a family member's care is often a huge cause of tension. Financial concerns can influence decisions about where the person should live, whether or not a particular medical intervention is needed, and whether he can afford a housekeeper. When aging parents need help with finances it can cause new conflicts – often fueled by ongoing resentment over income disparities and perceived inequities in the distribution of the family estate.
-- Burden of care -- Experts say the most common source of discord among family members occurs when the burden of caring for an elder isn't distributed equally. "Usually one of the adult children in the family takes on most of the caregiving tasks," says Donna Schempp, program director at the Family Caregivers Alliance, a national nonprofit organization that provides information and support to caregivers. Research conducted for the Home Instead Senior Care network reveals that in 43 percent of U.S. families, one sibling has the responsibility of providing most or all of the care for Mom or Dad.
Engaging parents in caregiving issues is important, Dr. Connidis said, and so are family meetings that involve a third party if necessary. A third-party resource, particularly a professional such as a doctor or geriatric care manager, can provide an impartial voice of reason. "Talking before a crisis is best," she said. "Talk to one another about perceptions of what happens if seniors need help, how available you would be, and the options that you and your family would consider."
Consumers looking for family conflict resolution tips and resources from the 50-50 Rule program, should visit the Solving Family Conflict website.
About Home Instead Senior Care
Founded in 1994 in Omaha by Lori and Paul Hogan, the Home Instead Senior Care® network is the world's largest provider of non-medical in-home care services for seniors, with more than 900 independently owned and operated franchises providing in excess of 40 million hours of care throughout the United States, Canada, Japan, Portugal, Australia, New Zealand, Ireland, the United Kingdom, Taiwan, Switzerland, Germany, South Korea, Finland, Austria, Italy and Puerto Rico. The Home Instead Senior Care network employs more than 65,000 CAREGiversSM worldwide who provide basic support services – activities of daily living (ADLs), personal care, medication reminders, meal preparation, light housekeeping, errands, incidental transportation and shopping – which enable seniors to live safely and comfortably in their own homes for as long as possible. At Home Instead Senior Care, it's relationship before task, while continuing to provide superior quality service that enhances the lives of seniors everywhere.
###