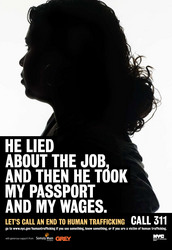 Let's Call An End To Human Trafficking.
New York, NY (Vocus) May 20, 2010
The Somaly Mam Foundation, a leader in the global fight against human trafficking, is partnering with the Office of the Mayor of New York to launch a bold new public awareness campaign called "Let's Call An End To Human Trafficking."
The campaign features print advertisements in both English and Spanish that draw attention to the realities of human trafficking while urging New Yorkers to report suspected activity and victims to seek help. The ads, created by Grey Worldwide in partnership with the Somaly Mam Foundation and the Mayor's Fund to Advance New York City, will appear in subway stations and bus shelters in all five boroughs beginning on May 20.
The City has also launched a new anti-trafficking website, nyc.gov/humantrafficking, which provides information on ways to recognize human trafficking, how to report it, and what to do if you are a trafficking victim. In addition, the Mayor's Office of Immigrant Affairs will work with the media and community organizations serving immigrants to spread awareness and provide critical trafficking resources to New York's most vulnerable communities.
The City's Family Justice Centers, run by the Mayor's Office to Combat Domestic Violence and borough district attorneys, are available to provide trafficking victims with the support and resources they need under one roof. The centers, listed on the new campaign website, allow victims to meet with a prosecutor, speak with a trained counselor, and apply for housing and financial assistance in one location and in one visit.
Human trafficking is the second-fastest growing crime in the world, second only to the drug trade. As a major city and transportation hub, New York is a prime destination and transit location for victims of trafficking, both foreign and American-born. "Many people don't realize that modern day slavery exists in America and could be affecting the person next door," said Bill Livermore, Executive Director of the Somaly Mam Foundation and Member of the NYC Human Trafficking Task Force. "Human trafficking is often hard to identify unless you know what to look for. This campaign helps New Yorkers recognize the signs of trafficking, and lets victims know that help is just a phone call away. The Somaly Mam Foundation is thrilled to be working with the Office of the Mayor of New York to build critical public awareness around the crimes of human trafficking. Educating the public is vital if we want to eradicate modern day slavery."
If you are a victim of human trafficking or suspect that you have witnessed human trafficking activities, call 911. If you would like more information about human trafficking or would like to learn more about how you can help, call 311 or visit nyc.gov/humantrafficking.
About the Somaly Mam Foundation
The Somaly Mam Foundation is a nonprofit charity committed to ending modern day slavery in North America and around the world. Founded by sexual slavery survivor Somaly Mam, the foundation works to eradicate human trafficking, liberate its victims, and empower survivors so they can create and sustain lives of dignity. The foundation supports survivor rescue, shelter and rehabilitation programs globally with a special focus on Southeast Asia, where the trafficking of women and girls, some as young as five, is a widespread practice. The Somaly Mam Foundation also runs awareness and advocacy campaigns in North America and around the world that shed light on the crime of human trafficking and focus on getting the public and governments involved in the fight to abolish modern day slavery.
About Grey New York
Grey New York is the advertising network of Grey Group. Grey Group ranks among the largest global communications companies. Its parent company is WPP, Grey Famously Effective Since 1917 serves a blue-chip client roster of many of the world's best known companies: Procter & Gamble, GlaxoSmithKline, Diageo, Darden Restaurants, Pfizer, Canon, 3M, Eli Lilly, E*TRADE, NFL, Boehringer Ingelheim J.M. Smucker and T.J. Maxx. FAST COMPANY named Grey to "The World's 50 Most Innovative Companies" list in 2010.
# # #