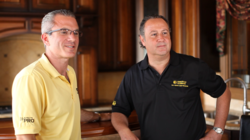 The customer experience starts when we first pick up the phone.
Somerville, NJ (PRWEB) October 01, 2012
Somerville Aluminum has been remodeling homes throughout New Jersey for over sixty years. The remodeling company of choice for generations of homeowners, Somerville Aluminum has grown on the foundation that total customer satisfaction is the primary focus that drives success. To that end, Somerville Aluminum recently launched an infomercial that speaks about why the customer experience is so important to the team at Somerville Aluminum and what homeowners can expect when working with them.
"The customer experience starts when we first pick up the phone," states Gary Shiman, co-owner of Somerville Aluminum. "Most clients are overwhelmed at the beginning of a remodeling project. Our team and process will ease homeowner's anxiety. We walk our customers through the entire process from start to finish."
Shiman, along with brother-in-law and fellow co-owner, David Gropper, navigate viewers through the importance of offering value, respect, dedication and a reliable timetable when working with their customers.
The infomercial introduces viewers to some very passionate testimonials by Somerville Aluminum customers who explain how Somerville Aluminum has gone beyond their expectations with their honesty, reliability and craftsmanship.
Somerville Aluminum started as a storm window company. Their dedication to their customers and their employees while keeping the same message across the board for so many years has enabled them to grow and sustain longevity. They note that while their products and processes have changed over the years, their core values and commitment to customers have not.
Comcast subscribers can view the infomercial on the Home and Garden Channel, 888; while Cablevision customers can view it on channels 603 and 609.
A new Kitchen and Bath Designer joins the team.
Somerville Aluminum has added a new kitchen and bath designer to their staff. Andrea Macri, a NCIDQ licensed and trained interior designer will be available to help customers navigate through the many options and selections necessary when undertaking a home remodeling project. Andrea brings a wealth of design knowledge and expertise gained while designing hotels, resorts, restaurants and spas, as well as kitchens and baths all over New Jersey. Once the go-to interior designer for the Marriott Corporation, Somerville Aluminum is eager for Andrea to lend her touch to customers, while providing them with a level of trust and comfort important for the overall experience.
Go with the Pro: For over 60 years, Somerville Aluminum has been a fixture on Main Street in downtown Somerville, NJ. With customer satisfaction as their focus, Somerville Aluminum is the area's largest full service home remodeling company and has built a reputation for reliability, expertise and trust with their core family values lacing through three generations of service to Central Jersey homeowners. The certified staff and design team practices and promotes a "green" home and way of life, are lead certified, and partners only with vendors providing the same exceptional quality and service their customers have come to expect. Recently named "Best of the Best in Central Jersey", Brothers-in-law Gary Shiman and David Gropper approach each day and each job with their customers as their number one priority and strive to assure them that their home is in good hands.
To learn more about the Somerville Aluminum Home Remodeling and Design Team, please visit http://www.somervillealuminum.com or call 908-725-8401.
Contact:
Jodi Mayo Alessandri
MG Media, LLC
856 US Hwy 206, Suite B11
Hillsborough, NJ 08844
908-874-9200 x111