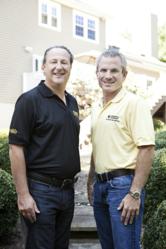 I am most excited to stand at the front door and greet our customers as they walk in.
Branchburg, NJ (PRWEB) May 20, 2013
After spending more than 60 years in downtown Somerville, Somerville Aluminum has just opened its new 15,000 square foot facility just seven miles away in Branchburg. The park-like campus sits on over 6 acres and includes the company's impressive showroom and design center, corporate office and warehouse. The new location has been a long-time dream of owners David Gropper and Gary Shiman, who together run the family owned business that started as an aluminum storm window company and has grown into the largest home remodeling and design company in central New Jersey.
"For David and myself to be lucky enough to continue a third generation business- to take it from its roots and build our dream home for our employees and customers is somewhat overwhelming to me," explains Gary Shiman. "We have an amazing group of people working for us who I am so very proud of and grateful for. I am excited to give them this new home to work in."
Upon entering the new facility, a welcoming reception area with a soaring wall of slate and mosaic tiles greets one along with a unique display wall of flooring as if entering an art gallery. There is a comfortable seating area centered in front of a fireplace with a large flat-screen TV. Rounding the bend, past the pergola and the grand entry door display, it is hard not to stop in one's tracks and take in the magnificent display that unfolds before the eye. Beneath the soaring ceilings and on top of the glittering decorative concrete floor is an expansive, architecturally designed remodeling showroom brimming with displays of windows and doors, awnings and decking, siding and railings. There are walls of granite and marble, a tile selection center, bathroom vanities and a working shower. Cabinets in every color and style and hardware displays all lead to several kitchen vignettes, in a style to meet every taste, fit every budget and satisfy every homeowner.
A full working kitchen will allow the New Jersey remodeling contractor to hold vendor demonstrations, while entertaining customers and providing information on the latest trends. The entire complex has been Wi-Fi enabled and large flat screen TV's are scattered throughout the showroom, conference room, offices and sales center so that customers can conveniently tap the Internet and sales associates can share company photos, show designs and access customer files from any spot.
Somerville Aluminum, working with an architect and designer, gutted the entire building from top to bottom, completed the build-out and utilizing their own contracting team to install the showroom display areas, had the project completed all in just four months.
With the goal of providing a convenient, one-stop showroom for its customers and a comfortable environment for employees to thrive in, Somerville Aluminum has built its dream home with the guiding principle that started with founder Max Gropper in 1950: To provide complete customer satisfaction.
"I am most excited to stand at the front door and greet our customers as they walk in," beams Gary Shiman.
Go with the Pro: Somerville Aluminum is the area's largest full service home remodeling company and has built a reputation for reliability, expertise and trust with core family values lacing through three generations of service to Central Jersey homeowners.
To learn more about the Somerville Aluminum Home Remodeling and Design Team, please visit http://www.somervillealuminum.com or call 908-725-8401.
Contact:
Jodi Mayo Alessandri
MG Media, LLC
856 US Hwy 206, Suite B11
Hillsborough, NJ 08844
908-874-9200 x111