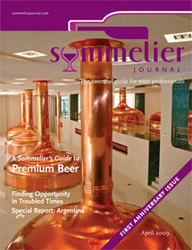 We've got a number of new things to bring to our subscribers and the professional community
Denver, CO (PRWEB) April 17, 2009
With the release of its April 2009 issue, Sommelier Journal has completed its first year of publishing monthly issues.
"Has it been a year already?" wrote editor David Vogels, CWP, in the issue. "It seems incredible that Sommelier Journal could have become an industry standard in 12 months, but that vision has come true, thanks to our dedicated, highly professional base of subscribers and writers."
The first American magazine devoted to the interests and concerns of the restaurant wine business, Sommelier Journal continues in April the in-depth coverage it has provided since its inception. The First Anniversary Issue includes a look at premium beers from Marnie Old, a special report on Argentina from Catherine Fallis, MS, CWP, a survey of sommeliers around the country on the impact of the recession and how to fight it, and an examination of volatile acidity, the latest installment in the popular Wine Flaws series from Dr. Jamie Goode.
Regular departments in the April issue include an interview with importer Neal Rosenthal; spotlights on Emily Wines, MS, Passionfish restaurant, and Frog's Leap winery; a look at the terroir of the Bekaa Valley; and a Zinfandel tasting panel. This lineup of features and departments, in addition to the four regular columns Sommelier Journal prints each month, has barely changed in its year of publication.
"It does amaze me that the format has carried through almost unchanged," Vogels wrote. "Through our surveys and feedback, we found that our readers appreciated the way we present in-depth information on the world of wine."
An impressive array of highly acclaimed wine writers and professionals have contributed to Sommelier Journal's first year, including Editorial Board members Robert Bath, MS, Jesse Becker, MS, CWE, Gilles de Chambure, MS, CWE, Fred Dexheimer, MS, Tim Gaiser, MS, David Glancy, MS, CWE, Bobby Stuckey, MS, Alder Yarrow, and Brett Zimmerman, MS, as well as Contributing Editors Shayn Bjornholm, MS, Beverley Blanning, MW, Randy Caparoso, Catherine Fallis, MS, CWP, David Furer, CWE, Joyce Goldstein, and Jim Meehan. Other first-year contributors include Eric Asimov, Dan Berger, Richard Betts, MS, Matthew Conway, ASA, Bill Daley, Doug Frost, MS, MW, Roy Hersh, Doug Krenik, MS, Geoff Kruth, MS, Jeff Morgan, Linda Murphy, and many others.
Coverage of wine regions has ranged all over the world, from Salta to Champagne, Montsant to New Zealand, the Mokelumne River to the Wachau, and many others. In-depth interviews have included Charlie Trotter, Merry Edwards, Heidi Peterson Barrett, and other influential figures in the industry. Information on industry trends has comprised the latest on wired wine lists, the three-tier distribution system, organic and biodynamic winemaking, wine cocktails, and more. Business advice has included an entire issue devoted to service (February 2009), expert tips on creating a profit-generating wine list, and ways to look for value in today's economy. Professional tasting panels have evaluated Grüner Veltliner, Châteauneuf-du-Pape, Montrachet, California Cabernet Sauvignon, Champagne, and many other categories.
In fact, in just a year, Sommelier Journal has provided its readers with more than 750 useful facts on wineries and winemaking, 700 tasting notes, 650 valuable pieces of information on international wine regions, 400 business tips on running a restaurant wine program, and 200 food-and-wine pairing suggestions.
As it enters its second year, Sommelier Journal isn't content to stand pat. "We've got a number of new things to bring to our subscribers and the professional community," Vogels said. "We just held our inaugural Terroir Experience educational event in Lodi and the Sierra Foothills, which we will do again next year in a different location. We are going to publish release reports in the spring and fall from many of our best writers, covering new releases from the entire world of wine. We are currently conducting a massive survey of the business practices and sales results of restaurants around the country, which will be published in late summer. We just launched our subscriber-only intertWINEd online networking site at SommelierJournal.com. And, of course, we'll continue to provide comprehensive coverage of the wine industry."
Sommelier Journal is a monthly wine publication based in Denver, from a company with more than 40 years of experience in the magazine industry. Parts of the April First Anniversary Issue and previous issues can be read for free on its website http://www.sommelierjournal.com/articles . One-year U.S. subscriptions to Sommelier Journal are available for $59 (a savings of two-thirds off the cover price), with an additional 10% discount on two-year subscriptions. Higher rates apply for Canadian and other non-U.S. subscribers. Back issues can be purchased for $14.99. Those interested can subscribe or purchase issues at http://www.sommelierjournal.com/subscribe .
###