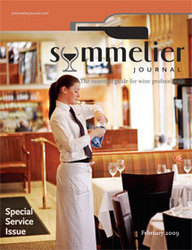 It was a meditation on service from folks I respect tremendously
Denver, CO (PRWEB) February 25, 2009
The editors of Sommelier Journal have devoted their entire February issue to service in the restaurant industry, covering topics ranging from glassware to training to an all-star roundtable discussion on a wide range of service topics.
"Part of our core mission is to provide a place for sommeliers to share best practices, and in this economic climate, there may not be a more important area than service where we can do that for our readers," said Sommelier Journal Editor David Vogels, CWP. "I am delighted with how the issue turned out: this is essentially a textbook on restaurant service."
February's Special Service Issue is anchored by the 16-page roundtable discussion featuring a panel of experts from around the country: Randy Caparoso, Matthew Conway, ASA, Christie Dufault, Nick Peyton, and Bobby Stuckey, MS. The conversation covers subjects such as the attitude and skills required to excel in service; finding, training, and motivating your staff; proper methods of handling difficult guests and service interruptions; greeting and saying goodbye to guests; pricing strategies and tableside dialogue; and much more.
"Sixteen pages, and it really is 16 full pages without any padding, may seem like a lot," said Editor David Vogels, CWP, who moderated the discussion. "But it was tough for me to cut it down even to that length. The discussion was so good and so useful that I felt I should have had to pay a fee just for the opportunity to sit and listen to it."
Vogels gathered together a group with more than a century of combined industry experience: Sommelier Journal Bottom Line columnist Randy Caparoso, a founding partner and former corporate wine director of Roy's Restaurant Group; Matthew Conway, ASA, currently the general manager of Marc Forgione in New York City, and formerly a sommelier at Aquagrill, Pace, and Gray Kunz's Café Gray and Grayz, all in New York; Christie Dufault, formerly the wine director at Gary Danko and Quince in San Francisco and presently the wine-service instructor at the Culinary Institute of America's California campus; Nick Peyton, co-owner and maître d' of Cyrus in Healdsburg, Calif., and veteran of such San Francisco establishments as Gary Danko, Masa's, and the Dining Room at the Ritz Carlton; and Bobby Stuckey, MS, a Sommelier Journal Editorial Advisory Board member and co-owner of Frasca Food & Wine in Boulder, Colo., who previously ran the wine programs at The Little Nell in Aspen, Colo., and The French Laundry in Yountville, Calif.
"It was a meditation on service from folks I respect tremendously," Stuckey said. "It was an awesome experience."
"Never underestimate the collective knowledge and passion of committed service professionals when you put them together and pose tough questions," Dufault said. "Technical skills taught by those with decades of experience is like an Ivy League education for aspiring servers and sommeliers."
One of the strengths of the panel was the variety represented in the restaurants where they had worked. From Caparoso's background in a multi-unit company to Conway's service in markedly different New York City restaurants to the range of experiences that Stuckey, Peyton, and Dufault brought from large, small, and regionally focused establishments, at least one of the panelists had experience working in almost any imaginable type of restaurant.
"One thing I took from our discussion is that there are many ways to skin a cat," Caparoso said. "But one thing we all know is that it's all the little things that add up to great restaurant service, and judging from the phenomenal success my colleagues have had in their careers and restaurants, that's a lot of valuable things that they shared with me."
Vogels summed up his feelings about the finished product: "I generally don't like to build up any one particular thing that we do, because, of course, I think we do many things well. I will say that to me, this discussion alone is worth the price of a year's subscription. I am proud that we were able to deliver it to our subscribers."
The issue also includes five feature articles on specific areas of service. Catherine Fallis, MS, CWP, contributes an article on glassware, recommending the best manufacturers and listing the prices of their most popular lines. She notes that with the explosion of interest in wine in the United States, even a casual restaurant can no longer get away with substandard stemware. Caparoso agrees in the roundtable discussion, and in his February Bottom Line column, he also maintains that improving glassware is "the single most important thing you can do to [win the battle for survival]."
One of the most challenging responsibilities for a sommelier is staff training, a subject tackled by Belinda Chang, wine director of The Modern in New York City, in her article, "Modern Staff Training: How to Build a Better Wine Army." Chang points out that in today's environment, someone who truly understands the wine program is needed more often then ever, but there is usually only one sommelier to go around, even in fine-dining restaurants. That means all the servers need to be properly trained, including making sure that everyone understands the basics of the wine program. Chang offers creative tips from her experience not only at The Modern, Charlie Trotter's in Chicago, and the Fifth Floor in San Francisco, but also at smaller, ethnic restaurants like Osteria Via Stato in Chicago, where the servers needed to be able to speak confidently about Orvieto Amabile, Falanghina, and Aglianico.
Having a guest reject a bottle of wine is no reason for panic, according to David Glancy, MS, CWE. In an article on how to deal with the guest and the wine, Glancy differentiates between what to do with flawed and sound bottles. The situation can be ripe for conflict unless the sommelier establishes a plan to deal with it in advance. Glancy offers several options for keeping the guest happy and covering costs on opened and potentially partially consumed bottles.
Bottle rejections are not the only area where sommelier-guest interactions can run aground. Kim Pierce delves into how sommeliers around the country handle the baggage that guests can bring into the restaurant. Issues such as general anxiety about wine, an attachment to recognized brands, and wanting to start their experience with big red wines are explored, and solutions are offered to make sure that guests do not have poor experiences because the sommelier could not separate them from their baggage.
In the last feature of the issue, Jason Tesauro explores the controversial topic of avvinare. A common feature of European wine service, avvinare has not caught on in the United States. Proponents argue that seasoning glasses and decanters with wine before using them is an effective way to remove any residual detergent or other undesirable elements and the best way to make sure that the glasses do not inadvertently ruin a guests' evening. Opponents claim the practice makes guests worry that their glasses were not clean to begin with and that their expensive wine is being "wasted" by the sommelier.
The issue also includes spotlights on sommelier Jeff Groh from The Heathman Restaurant and Bar in Portland, Ore., and on Vetri Ristorante in Philadelphia. Sommelier Journal's regular columnists offer their takes on service, with Caparoso's Bottom Line providing tips on winning in the current economic situation with service, Jim Meehan's Bartender arguing that service culture must be developed from the top down, and Joyce Goldstein's Match Point making the case that true Service creates a Third Place for guests. Slate columnist Michael Steinberger concludes the issue, in the back-page Closing Time column, with a call to sommeliers to provide what he considers the ultimate service: educating consumers.
Sommelier Journal is a monthly wine publication based in Denver, from a company with more than 40 years of experience in the magazine industry. Parts of the Service Issue can be read for free on its website, http://www.sommelierjournal.com/articles/issue.aspx?year=2009&month=2.
One-year U.S. subscriptions to Sommelier Journal are available for $59 (a savings of two-thirds off the cover price), with an additional 10% discount on two-year subscriptions. Higher rates apply for Canadian and other non-U.S. subscribers. The Service Issue can be purchased individually for $14.99. Anyone interested in starting a monthly subscription or buying the Service Issue can do so at http://www.sommelierjournal.com.
###