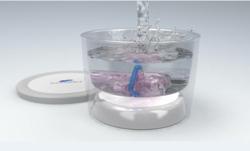 "The MATRx and G2 boost confidence among patients and clinicians," says Ralf Barschow.
Frisco, Texas (PRWEB) September 15, 2011
SomnoMed, Inc., manufacturer of the world's leading oral appliance, SomnoDent for the treatment of Obstructive Sleep Apnea (OSA) was featured in this month's edition of Sleep Diagnosis and Therapy.
The article Options and Evidence discusses SomnoMed's continued effort to innovate and develop the next generation of evidence-based medical devices for the diagnosis and treatment of Obstructive Sleep Apnea. Two new dental sleep medicine products were featured: SomnoDent G2® and SomnoMed MATRx™.
SomnoMed MATRx (pending FDA approval) "is analogous to a CPAP titration. For the first time, we are providing a means of predicting whether patients are suitable for oral appliance therapy. If they are, we can help determine optimal protrusive distance for their SomnoDent once they return to their SomnoMed dentist for further titrations" says Ralf Barschow, CEO of SomnoMed.
Whilst there are an increasing number of generic oral appliances available, only SomnoDent is independently clinically validated, incorporates proprietary materials and design features to maximize patient comfort. SomnoMed firmly believes that dental sleep medicine clinicians will continue to embrace patient-focused and evidence-based medical devices. Indeed this notion was recently supported when the Agency of Healthcare Research and Quality pointed to 22 trials supporting oral appliance therapy for the treatment of Obstructive Sleep Apnea.
New products within dental sleep medicine must focus on gaining the support and confidence of the patients, dentists, and physicians that will in turn improve crucial compliance rates. "The MATRx and G2 boost confidence among patients and clinicians," says Ralf Barschow. "Patients are confident they are receiving the highest quality oral appliance therapy out there. That confidence brings them back into treatment, which improves compliance—and improves their lives."
The full article can be viewed at http://www.sleepdt.com/options-and-evidence/.
About SomnoMed
SomnoMed is a publically listed dental sleep medicine company (ASX:SOM) providing diagnostic and treatment solutions for Sleep Breathing Disorders such as Obstructive Sleep Apnea. SomnoMed was commercialized on the basis of extensive clinical research. Supporting independent clinical research, continuous innovation and instituting medical manufacturing standards has resulted in SomnoDent becoming the state-of-the-art and clinically proven medical oral appliance therapy for obstructive sleep apnea. The most comfortable and effective design and treatment solution for over 70,000 patients in 20 countries. For additional information, visit SomnoMed at http://www.somnomed.com.
###