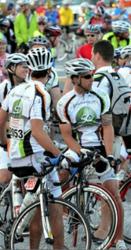 Preparing for...

BORDEAUX—PARIS 2013

"Ambitious about Autism"
(PRWEB) January 15, 2013
The Foundation on which athletic sponsorship packages are built is structurally failing. There is no greater example of this in recent times than what has occurred within the cycling community.
Many high performance cycling teams and clubs have been forced to shut down due to the loss of corporate cycling sponsorships. This scenario is not unique to the cycling world. Globally, many sporting institutions, teams and athletes are having difficulty attracting sponsors.
Bucking the trend, Team "So" Cycling is currently expanding its community of sponsored riders within the professional, amateur and club cycling ranks.
"We reward positive behavior. After personally witnessing what riders, of all levels, put themselves through to accomplish their objectives, we couldn't think of better behavior to reward with sponsorship", continued David when talking about Team "So" Cycling and the opportunities being made available.
Cycling sponsorship opportunities:
*Individual Cyclists - Team "So" Cycling is expanding its sponsorship roster of individual riders. Those interested in sponsorship must send an email to:
dbrophy(at)somuchsavings(dot)com - Please provide a rider "resume" and a list of charitable organizations the applicant considers important to him/her and why?. Team "So" Cyclists ride for the benefit of others.
*Cycling Teams and Clubs - Team "So" Cycling financially supports and participates in races, events and rides that benefit charities, non-profits and member cycling clubs and teams. Those interested in becoming a beneficiary of Team "So" efforts should forward an introductory "this is who we are" email to:
dbrophy(at)somuchsavings(dot)com - Please tell us about the unique needs of the Charity, Non-Profit, Club or Cycling Team.
Cycling Sponsorship Terms:
Sponsored athletes and participants must focus on 4 items as part of the terms of cycling sponsorship. New guidelines for "So" sponsored cyclists include the following:
1) Giving – Cyclists are required to participate in competitions and rides that will benefit charities, non-profits and member cycling clubs. Team cyclists will be responsible for helping these organizations raise money through Team "So" Cycling resources.
2) Receiving – Team "So" Cycling will provide charitable donations and financial support to the charities, non-profits and cycling clubs that fans and supporters identify as important to them. The compensation of Team "So" Cyclists is directly tied to the amount of money the team generates for these types of organizations. The compensation structure for "So" cyclists is based on helping others.
3) Training – Cyclists will be asked to participate in team "So" digital sequesters to discuss and be educated on all aspects of team guidelines, responsibilities, riding schedules, news etc. "So" cyclists will be responsible for training and educating the charities, non-profits and member cycling clubs on how to benefit from the resources provided. Team cyclists will be serving as a "philanthropic sag car" for these organizations.
4) Winning – Defined by establishing an objective and then successfully accomplishing it, Team "So" expects that our community of riders will win.
For those interested in becoming part of Team "So" Cycling as either a sponsored rider or a charity, non-profit or cycling club looking to raise money or awareness, please contact:
David Brophy
Team "So" Cycling USA
dbrophy(at)somuchsavings(dot)com
This press release has been approved by:
David N Capo CEO SoMuchSavings.com
Company Information:
Team "So" Cycling is part of the athletic sponsorship arm of SoMuchSavings.com. Sponsorship packages are available for 33 different sports: Archery, Baseball, Basketball, Billiards, Bowling, Boxing, Cheerleading, Cricket, Curling, Cycling, Diving, Equestrian, Fencing, Football, Golf, Gymnastics, Hockey, Kayaking, Lacrosse, MMA, Motor Sports, Racing, Rugby, Running, Sailing, Soccer, Softball, Surfing, Swimming, Tennis, Volleyball, Water Polo, Wrestling.
New York, NY - SoMuchSavings.com is an incentive based, online crowd savings resource that provides consumer savings, charitable donations and project funding to individuals, 501c3's and Non-Profit organizations.
The Company believes that if someone in the general consumer public is going to make a purchase, they will want to save money on the purchase and help someone during the process if given the opportunity to do so.
The SoMuchSavings.com system was designed and developed to make this a reality for consumers, charities and projects around the globe. The service is offered for free. Team "So" Cycling is a fully owned entity of SoMuchSavings.com
Media and Investor Relations:
info(at)somuchsavings(dot)com