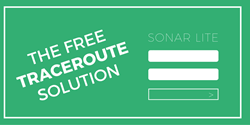 Sonar Lite is "just the foot in the door for network monitoring, it's just the beginning of what the full Constellix Sonar suite is capable of."
Reston, VA (PRWEB) November 24, 2015
Constellix has just released a free mobile app, Sonar Lite, which is the free solution for system administrators who need complete visibility of their domain on a global scale. In just two steps, users can perform detailed traceroutes for any domain across the Constellix network's monitoring nodes. The app is currently available for Android, with a version for iOS coming in the next few weeks.
Sonar Lite is changing the game for network monitoring. While it may seem like a simple tool, Sonar Lite is "just the foot in the door for network monitoring, it's just the beginning of what the full Constellix Sonar suite is capable of," says President of Constellix Steven Job. Sonar Lite is supported by Constellix's massive infrastructure that's been expertly architected over the last 14 years. Designed for scalability and redundancy, Constellix's IP Anycast + network uses proprietary self-healing technology so it can quickly recover from attacks.
Sonar Lite users are able to take full advantage of this world-class network within the confines of this simple app. "In seconds you can get deep visibility into your domain's connectivity with end-users from any major hub in the world," says Lead Developer Anteneh Nurlien. "Whether you're checking for reliable resolution times in a major hub like Los Angeles, or trying to reach clients in smaller city like Chennai, Sonar Lite gives you an instant snapshot of your connectivity."
As a webmaster or system administrator, the number one goal is to establish and maintain connectivity with end-users. These connections are challenged daily by unexplained latencies, redirects, downed servers, and more. Sonar Lite's quick snapshot can help admins quickly pin-point issues and make actionable solutions in minutes. For even more in-depth visibility, DNS Made Easy users can take advantage of all of Constellix's premium monitoring features for free.
For example, a user can use Sonar Lite to conduct a traceroute on their domain. If they notice unusual behavior along the path, then they can login to the full Constellix suite (if they're a DNSME member) and use Historical Traceroutes to get an even more detailed report. Historical Traceroutes provide users with in-depth path analysis of their current traceroute in tandem with previous traceroutes that have been logged over the past 15 days.
About Constellix
Constellix is a subsidiary of Tiggee LLC, the creators of DNS Made Easy, and the world leader in providing global IP Anycast enterprise DNS services. Using Constellix Sonar, users can monitor their online infrastructure performance, troubleshoot issues, and resolve problems with a Cloud-based Traffic Management Suite. The only Traffic Management Service of its kind that helps fuel end-user experiences to incomparable levels.
Constellix DNS features maximum DNS speeds and industry topping layers of redundancy. Built upon DNS Made Easy's industry leading 13 year 100% uptime record, Constellix DNS builds on a proud history of reliability and is the preferred DNS hosting choice for companies big or small.