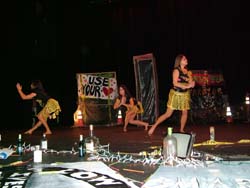 We want to produce art that inspires and shows the youth that there is a way to change our city.
Oakland, CA (Vocus/PRWEB) June 11, 2011
Art 4 Change is featuring the play "Dam/aged" on June 17, 18, and 19 as a way to reach out to the community. Art 4 change is partnering with non-profit organizations to produce a community outreach event that is centered on the play Dam/aged. The abstract drama will contain musical components and is a fusion of contemporary urban theater and traditional American musical theater that is a "Tyler Perry meets Rent" type of production. The play, produced and directed by Bronche Taylor of Art 4 Change, portrays issues regarding suicide, youth violence, drug and alcohol abuse, and HIV.
Art 4 Change will also be giving out free materials and information relating to the topics dramatized in the play. This is a great way to make everyone aware of the problems that society is facing.
"We want to produce art that inspires and shows the youth that there is a way to change our city," said Bronche Taylor, Producer and Director of "Dam/aged. "Our play creatively addresses some of the most prevalent issues facing the youth in Oakland and we want to give the youth a way to express themselves, as well as keep them busy and away from drugs and crime."
Planned Parenthood, Youth Uprising, and Aids Project East Bay are some of the non-profit organizations who are collaborating with Art 4 Change to make this significant project a success. Oakland is one of the top three cities for HIV rates, according to the Alameda Department of Health. With 90 recent murders, the city is the sixth worst city for violence, according to a recent study by FBI. The play is produced in conjunction with high school students who are assigned to do on-set work as cast and crew members. Artwork, created by Crystal Guidry, that addresses the themes of the play will also be on display. Tickets for "Dam/aged" can be purchased by calling 209-808-3155 or by visiting http://www.kidsplayssanfranciscoca.com.
About Art 4 Change
Art 4 Change is a non-profit organization in Oakland that promotes literacy, artistic development, song writing and community outreach through the creative and performing arts. They feature kid's plays and acting classes.
###