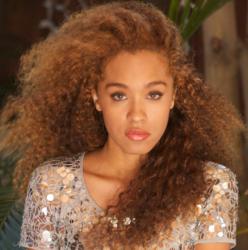 "It's been an exciting experience and I'm truly humbled by the warm response I have been receiving. I'm really looking forward to doing much more this year,"
Los Angeles, CA (PRWEB) January 12, 2012
Emerging R&B and Pop singer Zhavea is building new momentum in anticipation of her forthcoming album as she debuted a new single "Bring it Back" in November and is scheduled to attend charitable events this month. Zhavea's recent string of performances and appearances is helping her gear up for a strong start to 2012. "Bring it Back" written by Yoftahe Zewdu and produced by JNAT beats is the third single by Zhavea released ahead of her upcoming album and can be heard on YouTube. Zhavea is diligently working in the studio to finish her album slated for release this year. She continues to co-write, working with writer Yoftahe Zewdu and producer JNAT.
In January, Zhavea will be graced in the "Artist Spotlight" for Sparxx Vizion, an urban music industry publication that promotes new artists. She will take part in an exclusive interview with DJ Steel of Sparxx Vizion to discuss her recent hit singles and upcoming plans. Zhavea will also be featured in the publication's Best of Both Worlds Volume 3 compilation album. "I'm honored to be recognized by Sparxx Vizion for all the hard work and effort I have been putting into my music throughout the year," Zhavea said. "It's been an exciting experience and I'm truly humbled by the warm response I have been receiving. I'm really looking forward to doing much more this year,"
But before Zhavea prepares to take her music to new heights in 2012, the talented R&B and Pop artist performed with a chorus on stage with Stevie Wonder at the Stevie Wonder's 16th Annual House Full of Toys Benefit Concert on December 17 at the Nokia Theatre. The concert starred Stevie Wonder and was hosted by Steve Harvey with special guests Drake, Justin Bieber, Michael McDonald, Little Anthony and The Imperials, Gerald Clayton, Treasure Davis, Nuttin' But Stringz, Shelea Frazier, Savannah Robinson and more.
Zhavea's charitable appearance at the Stevie Wonder event follows her most recent attendance at the Artists for Peace "Never Again" concert held in November where Zhavea walked the red carpet with other music artists such as R&B and Soul singer Eric Benet.
Fans have witnessed amazing progress from Zhavea as she has delivered several performances throughout the Los Angeles area and attended many red carpet events for awards ceremonies and charities. This year, 2012 will prove to be a big year in Zhavea's blossoming music career. In early 2012 Zhavea is set to perform a small concert debuting songs from her upcoming album.
For more information, visit http://www.zhavea.com.
For Media, Interviews and Booking Appearances, please contact:
Yvette Morales
YM & Associates
PR | Marketing | Branding | Business Development
California | New York
949.244.9769 | 310.499.0906 Fax
YMoralesY(at)YM-PR(dot)com
http://www.YM-PR.com
# # #