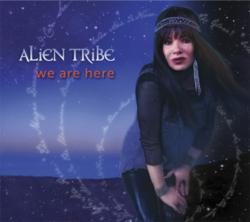 My hope is that people will get an emotional experience when they hear my music.
(PRWEB) December 03, 2012
EXoBlue Records released 13 songs for Alien Tribe's debut electronica album "We Are Here" that are available through digital download from major on-line websites. Alien Tribe is the electronic music project of songwriter, performer, engineer, mixer and producer Lia Shapiro. While the album boast a wide array of genres and rhythms, all these new songs are unified through the signature sound Lia creates as a producer.
"My hope is that people will get an emotional experience when they hear my music. They may not always be able to identify it, categorize it or come up with a genre, but they know for sure it creates a feeling and that's what I want them to remember" stated music artist Shapiro who worked on this project for over five years.
All Alien Tribe songs feature originally engineered sounds that Lia designs herself combined with a variety of rhythms some of which are dance like while others more relaxing. Lia is one of only a handful of women songwriters who also mix, engineer and produce music. Her signature sound is completed with multi-layered vocals that mix inventive lyrics with whaling, chanting and other uses of the voice all deftly mixed to create an emotional feeling in the listener.
"I believe the wailings and chants, and even some of my synth parts are the expressions of universal longing and yearning. We all long and yearn. We are humans and we feel emotions and passion. Real life not only consists of the happy moments but more often, real life can mean suffering and pain. In my own way, I try to relate to real life and what it means" Alien Tribe's Shapiro shared.
The 13 songs tap into these universal feelings by addressing issues of lost love, aloneness, sadness, societal issues and more. At the same time, they also offer an uplifting and inspiring message such as "Rise up tall, shout the call, let freedom sing, like love on wings" from Alien Tribe's pop song "Mess It Up" and "One soul, One heart, One world...we gotta come together...we gotta love!" from the chill song "Feel The Love."
Alien Tribe's "We Are Here" is on EXoBlue Records. Music licensing for advertising, TV, films and games is handled by Rykristo Music Publishing.