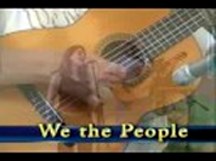 "Commit yourself to the noble struggle for human rights. You will make a greater person of yourself, a greater nation of your country and a finer world to live in." - Martin Luther King, Jr.
(PRWEB) February 18, 2014
Universal human rights, gender equality, racial equality and social justice are the responsibility of all world citizens. Black History Month provides an opportunity to bring these issues front and center in school classrooms. These are perennial issues that extend beyond the historical Civil Rights Movement in the U.S.A. But the inner story of the struggle for racial equality in America provides a powerful platform for understanding issues of rights and freedoms which face all humanity.
For young students of American and world history, the words of the preamble to the Constitution for the United States of America provide fertile ground for dialogue to do with rights, equality and social justice. Songs To Educate, an arts integrated education resource, presents a provocative song created to spark this dialogue.
It begins with a story by Paul Andrew Zeir, cofounder of Songs To Educate:
'Our fourth grade son came home from school feeling wound up and defiant. His class was studying the U.S. Constitution, beginning with the Preamble. He asked us if we knew that most Americans were not actually included in the original definition of the "We" in "We The People"? Did we know that the founding fathers defined "We The People" as wealthy, white, male landowners? So if you were anything but white, if you were female, if you were too poor to own property, you were excluded from their definition of "We The People"!
Needless to say, our son was outraged.
So... we now had a reason for writing a new song.
We asked his teacher what she thought about us coming into the classroom to work on a song which would update and redefine the idea of "We The People"?
She responded with an enthusiastic "YES", and so it began - a song which would include a recitation of the preamble to the U.S. Constitution but with verses and chorus which would passionately update what is meant by "We The People".'
The result became a popular Constitution Day activity for thousands of teachers around the United States using this powerful video as a tool to explore human rights, civil rights, compassion, tolerance and diversity.
"Whatever career you may choose for yourself - doctor, lawyer, teacher - let me propose an avocation to be pursued along with it. Become a dedicated fighter for civil rights. Make it a central part of your life. It will make you a better doctor, a better lawyer, a better teacher. It will enrich your spirit as nothing else possibly can. It will give you that rare sense of nobility that can only spring from love and selflessly helping your fellow man. Make a career of humanity. Commit yourself to the noble struggle for human rights. You will make a greater person of yourself, a greater nation of your country and a finer world to live in." - Martin Luther King, Jr.
The song and video "We The People" is presented here as an engaging help to all teachers and parents who wish to kindle awareness and sensitivity in young people inside the greater questions of civil rights for all world citizens.
About Song To Educate:
The founders Paul and Melanie Zeir have been working directly with thousands of children since 1997 to inspire and educate through music and movement. Interactive songs with dances and lesson plans are now available online at http://www.SongsToEducate.com.
Songs To Educate provides a full supplemental library of curriculum based songs with movement accompaniment for children ages 2-12.
Songs To Educate is about loving learning and satisfying the curriculum requirements.
Services include curriculum-based performing arts programs, conference presentations, professional development, and tech support for public, independent and homeschooling environments.
Any teacher can integrate music and movement into the classroom…Songs To Educate is here to help!