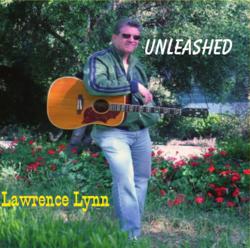 Giving the free track is sort of a celebration and to let people get a sense of the album
Pensacola, Florida (PRWEB) May 01, 2012
Songwriter singer Lawrence Lynn - who has received praise from his performances in the greater Los Angeles area and in Pensacola, Florida - will be making the merry month of May even merrier by releasing his 3rd CD titled "Unleashed" on May 1, 2012.
Three of the songs were produced by the Spencer Davis Group's long-time lead guitar player, Edward Tree (producer, engineer, guitarist and songwriter with over 30 years of experience in the Los Angeles area), who also mixed two of the songs on the CD. Main mixing & mastering engineer for the CD was Ciaran Hope, noted film and TV composer.
This CD is well titled with songs that speak for themselves like a big dog let joyfully loose from his leash. Sneak previews of the CD to exclusive listeners found uniform support and amazement at the beauty and slight change of direction in the album. As an example, the first track 'Lovely, Lady' is a masterpiece of the classic adult contemporary song, quite uncharacteristic of the usual humorous folk-rock sound of this songwriter singer.
'Too Long in Limbo' is a folk rock song that whispers of things suspected but not entirely known & makes a statement about the plight we are really in on this planet today. The 3rd track entitled 'Gabrielle' is a simple song about the joys a daughter brings to a father & the emotional impulse of this song gets people dancing & moving.
'Hope It Doesn't Rain' is an alt country ballad that starts with the jolting lyrics, "You're been in Paris. I've been in jail," & it moves on into an allegorical tale about our current society. 'Never Was' is a song that speaks to the inner soul of all of us.
Lawrence will be offering a free track of the CD's first song 'Lovely, Lady' at his website http://www.lawrencelynn.com until June 1st. Per Lawrence, "Giving the free track is sort of a celebration and to let people get a sense of the album."
The CD (including audio and lyrics of each song) is available on Lawrence's website at http://www.lawrencelynn.com/new-cd---unleashed.html, and the CD as well as the digital version is at cdbaby.com. Digital versions of the album will be available at iTunes, Amazon and many other notable music retail sites on-line.
For those wanting more free song tracks of Lawrence's and who would like to receive updated news on what he's doing, they can get these at http://www.lawrencelynnmusic.com.
"Unleashed" definitely is a long-awaited and much-anticipated eclectic album from Lawrence Lynn. And don't forget that the free track of 'Lovely, Lady' will only be available up to June 1 on Lawrence's website.