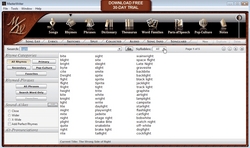 This is a business where good is not good enough. MasterWriter was designed to help the songwriter consistently create the exceptional. The program represents all the tools I wish I had when I was writing songs
Santa Barbara, CA (Vocus) March 30, 2010
American Songwriter Magazine subscribers were treated to a Saturday morning online presentation with Grammy winning songwriter, Barry DeVorzon. The session included a demonstration of MasterWriter songwriting software, a personal story of how his first hit came to be, and DeVorzon's views on what it takes to be a successful songwriter. A recorded version of the online event is available for viewing on the MasterWriter website.
MasterWriter's array of reference dictionaries help songwriters express themselves in more unique and memorable ways. The program also includes a MIDI drum loop library, a stereo hard disk recorder for capturing melodies, as well as a database that automatically keeps track of all information related to a song. MasterWriter is everything the songwriter needs in one program.
"This is a business where good is not good enough. MasterWriter was designed to help the songwriter consistently create the exceptional. The program represents all the tools I wish I had when I was writing songs," DeVorzon notes.
About Barry DeVorzon:
With a career spanning 50 years in the music industry, Barry DeVorzon has written many hit songs, won Grammy and Emmy Awards, and composed music scores for many top movies and TV shows. DeVorzon also created a highly successful record label,Valiant, and publishing company, Tamerlane, both of which he ultimately sold to Warner Music.
About MasterWriter:
MasterWriter Inc. was founded in 2003 by veteran songwriters, Barry DeVorzon, and Michael Towers. The program was introduced at MacWorld Expo in San Francisco, and won a Best of Show Award. MasterWriter is used by some of the most successful songwriters in the business, including Rob Thomas, Gwen Stefani, David Foster, Kenneth "Babyface" Edmonds, and Clint Black, to name a few. The company is headquartered in Santa Barbara, California. For more information, visit http://www.MasterWriter.com.
###