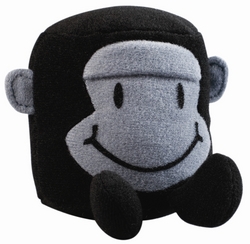 SONIC's Wacky Pack toys are always popular with customers, but we expect these ZOO Tots to quickly disappear from the drive-ins
Oklahoma City (Vocus) April 1, 2009
In an effort to make learning about wildlife enjoyable and significant for children, SONIC® Drive-In and the Association of Zoos and Aquariums (AZA) have partnered in a new ZOO Tot campaign. Fifteen plush ZOO Tots, available during the month of April at participating Sonic Drive-Ins® with the purchase of a Wacky Pack® Kids' Meal, are as adorable as they are educational. SONIC hopes the partnership and promotion will help raise awareness about the importance of wildlife conservation.
"SONIC's Wacky Pack toys are always popular with customers, but we expect these ZOO Tots to quickly disappear from the drive-ins," said Tamara Stanley, director-customer relationship and segment marketing. "Thanks to the educational information from the AZA, ZOO Tots provide a fun and interactive way for children to learn about animals and how to preserve wildlife, especially those species that are endangered."
Attached to all ZOO Tots is a link to http://www.soniczootots.com, an interactive Web site where customers can learn more about their ZOO Tot animal and habitat. SONIC has also produced limited quantities of ZOO Tots whose real-life counterparts have limited numbers in the wild as a way to help educate its youngest guests about the challenges facing wildlife across the world today.
"AZA-accredited zoos and aquariums connect children to nature," said Dr. Paul Boyle, AZA senior VP for conservation & education. "With Wacky Pack toys, Sonic is supporting this important cause by giving kids wildlife conservation information that's fun and interactive."
Throughout the year, every Wacky Pack® Kids' Meal includes a toy that may be a game or learning tool appropriate for children age three and up.
SONIC, America's Drive-In (NASDAQ/NM: SONC) started as a hamburger and root beer stand in 1953 in Shawnee, Okla., called Top Hat Drive-In, and then changed its name to SONIC in 1959. The first drive-in to adopt the SONIC name is still serving customers in Stillwater, Okla. As the nation's largest chain of drive-in restaurants, SONIC has more than 3,500 drive-ins coast to coast. More than a million customers eat at SONIC every day; and with more drink combinations than any other quick-service restaurant - more than 168,000 - SONIC is Your Ultimate Drink Stop®. For more information about Sonic Corp. and its subsidiaries, visit SONIC at http://www.sonicdrivein.com.
Founded in 1924, the Association of Zoos and Aquariums (AZA) is a nonprofit organization dedicated to the advancement of zoos and aquariums in the areas of conservation, education, science, and recreation. Look for the AZA logo whenever you visit a zoo or aquarium as your assurance that you are supporting an institution dedicated to providing excellent care for animals, a great experience for you, and a better future for all living things. With its more than 200 accredited members, the AZA is a leader in global wildlife conservation, and your link to helping animals in their native habitats. For more information, please visit http://www.aza.org.
###