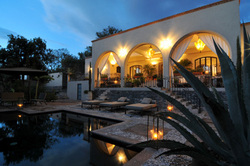 SonjoWasi is one of the most beautiful properties in all of San Miguel de Allende, a true oasis in the historic center
Washington, DC (PRWEB) June 9, 2010
SonjoWasi, a newly launched luxury bed & breakfast in the heart of San Miguel de Allende, Mexico is now opened as the city's most exclusive luxury B&B. With only four accommodations, this property offers a very unique and exclusive setting for stays in the heart of the city, in-between Parque Juarez and the Jardin (main square). The property's grounds include over one acre of expansive gardens that are perfectly suited for catering events and private dinners. The interior, decorated with antiques and artworks from around the world, includes four large accommodations (all en-suite; three with private terraces and two with fireplaces), an elegant living room with a large fireplace, an open kitchen attached to a dining room and a library with a hand-carved fireplace, flat screen TV and stereo system.
"SonjoWasi is one of the most beautiful properties in all of San Miguel de Allende, a true oasis in the historic center," comments Wesley Gleason, owner of the Agave San Miguel real-estate agency, "Behind an unassuming wooden gate is perhaps the largest garden property in San Miguel, with terraces, lawns, cactus gardens and a beautiful swimming pool."
SonjoWasi features:

Four large accommodations, all en suite, the smallest of which measures 150 square feet
Outdoor heated swimming pool surrounded by patio and lounge space overlooking gardens
Event space for up to 250 persons, including outdoor landscaped and stone terraces
Elegant living room with wood burning fireplace, ambient lighting and surround sound
Open kitchen ideal for hosting cooking lessons or for enjoying cozy meals
Inviting library with fireplace, flat screen TV and stereo system
Expansive gardens to include an indigenous cacti garden space with bonfire space
Full American and Mexican breakfast offered a-la-carte included in rates
Daily rates range from $265 to $315 per night, depending on room type, and are inclusive of breakfast and tax. A listing of room descriptions with corresponding rates are detailed on http://www.sonjowasi.com. Packages are available that ranges from an in-depth culinary week headed by Paulo Pocinho, the chef and owner of Mezzanine Bistro to theme weekend getaways including romance and wellness packages offered by Flor Escapes.
An a-la-carte gourmet breakfast is provided for guests with options that range from traditional Mexican dishes such as chilaquiles to American choices such as banana granola pancakes. This property is pet friendly and children are welcome. The entire villa property is also available for takeovers on request. Click here to view a video tour of SonjoWasi.
San Miguel de Allende, named after a Mexican Independence revolutionary, was recently named a UNESCO World Heritage Site. Known as an artistic enclave, the town center features magnificent 16th and 17th century architecture that has been exceptionally well preserved. The city's fine artisanal crafts, art galleries, restaurants and cafes along with historical sites, monuments and natural beauty keep visitors enchanted for days. With an altitude of more than 6,000 feet above sea level this area of Mexico's Central Highlands offers an inviting temperate climate, humidity is low and evenings are cool, making it an ideal vacation destination throughout the year. Condé Nast Traveler's Reader Choice Award has nominated San Miguel de Allende as the 5th best city in the Americas.
For more information on SonjoWasi email sonjowasi (at) gmail (dot) com, call 703-340-8881 or visit http://www.sonjowasi.com.
###