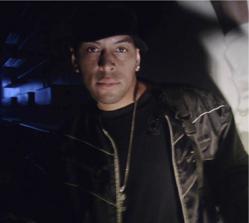 I listen and work on music everyday, so I wanted the sound and fit that I use on stage, and when I DJ to carry over to eers™
Los Angeles, Calif. (PRWEB) January 06, 2012
Sonomax Technologies, Inc. (TSXV: SHH) welcomes new Creative Director K. R. Nazel, a.k.a. Arabian Prince, West Coast music pioneer, DJ, producer and founding member of the groundbreaking rap group N.W.A. and Stones Throw label to their technology family. With a career spanning 30 thirty years in the music industry and over 15 fifteen years in 3D animation, film and video game production, Arabian Prince has joined Sonomax Technologies to help create, design, and market Sonomax's custom-fitted earphones, eers™, and the accompanying SonoFit™ technology.
"We are very fortunate to have been able to attract a talented and hard-working individual like Arabian, who brings his wealth of experience and contacts to not only our line of eers™ custom earphones, but also our SonoFit™ fitting technology which remains the company's core focus," said Nick Laperle, President and CEO of Sonomax Technologies.
"The Source, a 700 store Canadian National Retailer, has enthusiastically endorsed our product by launching Sculpted eers in their stores across the country during the holiday season. This acknowledgement by The Source of the demand for in ear applications by consumers further validates SonoFit as the premier fitting platform for any of the 300 million earphones sold globally under various brands; the opportunity upon which Sonomax will be leveraging it's licensing model. It was therefore time to conclude a deal with an experienced marketer such as Arabian Prince."
Mr. Laperle continued, "I'm very happy to report that Arabian's involvement will greatly enhance the success of these two initiatives."
Arabian has already commenced work with the Sonomax® team to redesign the eers™ product look and sound. "I listen and work on music everyday, so I wanted the sound and fit that I use on stage, and when I DJ to carry over to eers™. I have used custom in-ear monitors for years, but there has never been a cost effective solution for the general public until now," said Nazel. "Custom in-ear monitors can take weeks to make and cost a thousand dollars or more, but with the SonoFit™ system and eers™ custom earbuds, the general public can get a one-of-a-kind custom fit in just 5 minutes right out of the box for less than 25% of the price."
Currently, Arabian is working with gaming companies to create new gaming custom fitted earphones for the hundreds of millions of players who game for extended hours thus requiring a more comfortable, advanced listening experience. "The SonoFit™ system opens up the door for new technology partnerships. We are also working on applications for military, racing, and hearing protection, as well as selling the fitting systems to other earphone manufacturers. I am pleased to be a part of such an amazing product, and company," added Nazel.
About Sonomax Technologies, Inc.
Sonomax® is a leader in the product development, research, and licensing of in-ear technologies with more than 50 patents and trademarks worldwide. Sculpted eers is the first product to feature SonoFit, Sonomax's universal fitting system for any in-ear application. SonoFit™ offers OEM, ODM and aftermarket clients a broader range of opportunities in customized earpieces for the consumer, industrial, military and health markets. Learn more at http://sonomax.com.
Connect with Sonomax's eers on Facebook at facebook.com/sculptedEERS and on Twitter at twitter.com/sculptedEERS.
Connect with Sonomax Technologies, Inc. on Facebook at facebook.com/SonomaxTechnologies and on Twitter at twitter.com/Sonomax_SHH.
Media Contact
Katie Foley
Account Supervisor
lotus823
Office: 732.212.0823
Email: katief(at)lotus823(dot)com
###