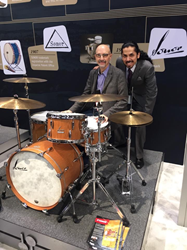 Vic's Drum Shop will be the first store in the country to receive Sonor's magnificent new Vintage series kits later this month, and our customers can pre-order them immediately through our website.
Chicago, IL (PRWEB) February 05, 2015
Vic's Drum Shop in Chicago, America's largest independent drum retailer, has been chosen by The Sonor Drum Company to be the first store in the United States to sell its new Vintage series drums. The line of drums, which won the "Best In Show" award at this year's NAMM (National Association of Music Merchants) Show, captures the look, feel, and sound of its predecessor, the Teardrop drums.
"To celebrate their 140th anniversary, Sonor worked with artists and collectors to bring back the iconic Teardrop drums of the 1950s through early 1970s with its new Vintage Series," says Victor Salazar of Vic's Drum Shop. "We'll be the first shop in the country to receive these magnificent kits later this month, and our customers can pre-order them immediately through our website."
Like the original Teardrop drums, the Vintage series drums feature hand-selected premium German beech shells with rounded bearing edges. Sonor has recreated the look of the 1950s teardrop lug and updated it with its exclusive Tunesafe tuning system. Sonor also redesigned the Superprofil triple flanged hoops and brought back the Sonor logo and badge used between 1952 and 1961.
The Vintage series drums are available in three finishes (Vintage Natural, Vintage Onyx, and Vintage Pearl) and in two 3‐piece preconfigured shell sets: a 20×14 bass drum, 12×8 tom, and 14×12 floor tom; and a 22×14 bass drum, 13×8 tom, and 16×14 floor tom. A selection of add-on drums and snare drums are also available.
Drummers around the world who are interested in learning more about Sonor's Vintage series drums can visit a dedicated landing page on the Vic's Drum Shop site for more info and to pre-order a kit. Additional products that were featured at NAMM from Zildjian, Sabian, Pearl, and Istanbul Mehmet are also available for pre-order.