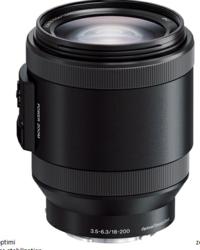 Sony Announced the Alpha E-mount 18-200mm F3.5-6.3 and 20mm F2.8 High-Quality Lenses—Now Available for Pre-Order at B&H Photo
New York, NY (PRWEB) January 22, 2013
B&H Photo Video is pleased to share with the photography community the release of the Sony 18-200mm f/3.5-6.3 PZ OSS Alpha E-mount lens, a powerful, yet compact zoom lens for the NEX mirrorless camera line from Sony. Its zoom range is equivalent to 27-300mm in the 35mm format and therefore offers everything from true wide-angle to super-telephoto capabilities.
This versatility with 18-200mm zoom range allows one to shoot groups, interiors and expansive landscapes and also zoom in for portraiture and to bring distant subjects close. A newly developed internal linear stepping motor provides quiet and smooth focusing which is ideal when shooting video. And in addition to three variable zoom speeds, the lens supports constant speed zooming for slow, smooth zoom, which is also desirable when shooting video. Zoom can be controlled from camcorders that feature built-in zoom levers in addition to standard control from the lens barrel.
Optical Image Stabilization (OSS) provides 4-stops of shake-correction which allows one to capture more light with less blur and provide clearer images when shooting in low light or at long focal lengths. When OSS is combined with the Anti Motion Blur and Hand-held Twilight Modes of NEX-series camcorders, low light interior shots can sustain themselves with lower ISO's and minimal noise even when using only ambient light. An optical design that includes 5 aspherical elements and Extra-low dispersion glass provides sharp, high-contrast images throughout the frame.
Smooth, quiet focusing motor
The Sony 18-200mm incorporates a newly developed internal linear motor that achieves an exceptionally smooth and quiet focus operation. The result is an almost noiseless, smooth high speed focusing operation that is essential for high-quality movie capture.
Premium-class optical performance
This high-quality lens design features 5 aspheric surfaces and unreserved application of advanced technology developed for the Alpha-series E-mount lenses in order to deliver images of superlative clarity and presence. This compact lens affords first-class contrast and sharpness from the image center right out to the edges.
Sony 18-200mm f/3.5-6.3 PZ OSS Alpha E-mount lens
Product Highlights
•Wide-angle to Telephoto Zoom Lens
•27-300mm Equivalent in 35mm Format
•Aperture Range: f/3.5-40
•Optical SteadyShot Image Stabilization
•ED Glass and Aspherical Lens Elements
•Internal Stepping Motors
•Smooth & Quiet, Ideal for Video
•Three-step Adjustable Zoom Speed
•Direct Manual Focus
•Metal Exterior
The Sony 20mm f/2.8 Alpha E-mount lens is a compact 20mm prime lens for the Sony NEX line of APS-C sized mirrorless cameras. Its 35mm focal length equivalent is 30mm which classifies it as a wide-angle lens with multiple applications. Its maximum aperture of f/2.8 is bright enough for low-light capture and shallow depth of field imaging and its optical design consists of three aspherical elements which correct distortions and aberrations and provide clear, high contrast, detailed images.
Sony 20mm f/2.8 Alpha E-mount Lens
Product Highlights
•20mm Prime Lens
•Aperture Range: f/2.8-22
•30mm Equivalent in 35mm Format
•Internal Stepping Motor
•Direct Manual Focus
•7.8" (0.2 m) Minimum Focus Distance
•3 Aspherical Lens Elements
•Ultra-compact Design
•Fits Sony NEX-mount Cameras
A smooth, quiet internal stepping motor is used for both focus drive and aperture actuation and makes this lens ideal for shooting video. Less than an inch long and built with aluminum alloy, it is both compact and durable. Autofocus and Direct Manual Focus via a focus ring is supported in both photo and video mode.
Wide-Angle Focal Length and Fast Aperture With a 20mm focal length (35mm equivalent of 30mm) and a bright maximum aperture of f/2.8, this lens provides a wide-angle focal length ideal for numerous applications and shooting situations. Its maximum aperture is fast enough for effective low-light shooting and shallow depth of field imaging.
Compact Aluminum Design
The aluminum alloy lens barrel is inlaid into a molded-plastic component for a lightweight yet durable construction. It measures 0.8" (20.4mm) in length and fits well with the compact design of the NEX-system cameras.
Read and learn more detail information about the Sony Alpha E-mount Lenses at BH InDepth.
About B&H Photo Video
As the world's largest source of photography, video and audio equipment, B&H Photo-Video is known worldwide for their attentive, knowledgeable sales force, and excellent customer service, including fast, reliable shipping. Visitors to the website can access a variety of enlightening articles and educational videos. B&H has been satisfying customers worldwide for close to 40 years.