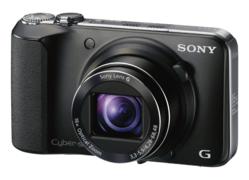 NYC, NY (PRWEB) February 27, 2012
B&H Photo will be one of the first retailers to stock the new Sony DSC-HX10V and Sony DSC-H90 digital cameras.
These exciting new Sony cameras will appeal to the cost conscious customers who are looking for affordable full functioning point and shoot cameras with robust features and a smooth interface.
The Sony DSC-HX10V, boasts a 18.2MP Exmor R CMOS sensor, which captures ultra-high definition images that take full advantage of the camera's sharp Sony® G lens. An advanced BIONZ processor rapidly analyzes the Extra- High Sensitivity data from the sensor, and activates By-Pixel Super Resolution technologies to reduce noise levels, resulting in stunning low light images with incredible details.
Clear image zoom gets you in close for detailed photos and the optical stabilization feature and smooth full HD video provides additional quality features that are the hallmarks of this camera.
The Sony DCH-90 is sure to become another staple camera in the point and shoot lineup from Sony. This nifty camera features a 16x optical zoom lens, with a 16.1 megapixel capability and 3,0 crystal clear LCD display, in a compact - ergonomic and user friendly body.
The camera also features enhanced creativity, with built in picture effects and sweep panorama modes for extra measure!
Finally, the DSC-H90 AND DSC-HX10V are just two new cameras from some 9 new point and shoot cameras which Sony will be rolling out concurrently! These new cameras incorporate exceptional optics and full HD video, in slim and compact units. When it comes to fusing robust features, with elegance in design and excellence in utility, few manufacturers do it better than Sony. With this new slew of cameras, Sony expresses and illustrates its continuing commitment to providing its customer base with quality point and shoot cameras at affordable prices.
The new selection of cameras, includes the Sony DSC-TX20, DSC-WX150, DSC-W690, DSC-HX30V and others.
Read BH InDepth for more information on the new point and shoot cameras from Sony.
About B&H Photo Video
As the world's largest source of photography, video and audio equipment, B&H Photo-Video is known worldwide for their attentive, knowledgeable sales force, and excellent customer service, including fast, reliable shipping. Visitors to the website can access a variety of enlightening articles and educational videos. B&H has been satisfying customers worldwide for over 35 years.
###