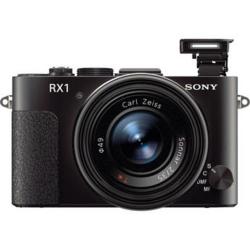 B&H Photo Video is excited to share with the photography industry the release of the Sony DSC-RX1 Worlds First Full Frame 24 Megapixel Point & Shoot Digital Camera
New York, NY (PRWEB) September 12, 2012
B&H Photo Video is excited to share with the photography industry the release of the Sony DSC-RX1 World's First Full-Frame 24 Megapixel Point & Shoot Digital Camera.
The Sony DSC-RX1 Full-Frame Point & Shoot Digital Camera is the world's first fixed-lens digital camera with a 35mm-sized sensor. Sony has put DSLR-quality imaging technology into this compact camera. In addition to 24MP JPEG or RAW stills, the RX1 will also shoot Full HD 1080p video.
Full Frame Sensor and Fixed Carl Zeiss Lens
The RX1 features a 24MP digital 35mm sensor and a fixed Carl Zeiss f/2.0 Sonnar T* lens with full manual controls. The lens features a maximum aperture of f/2.0 with 9 iris blades, for shallow depth of field with attractive bokeh. The lens's macro capabilities allow focusing down to 7.87" (0.2 m). A premium multi-layered T* coating also reduces ghost and flare caused by light reflection.
Full HD 24p Video with Manual Controls
Sony RX1 can record video in Full HD 1080p at 24 frames per second. Video features include manual controls, an audio input jack and a multi interface shoe for mounting an external microphone or other accessories (sold separately). Manual Exposure, Program Auto, Aperture Priority and Shutter Speed Priority exposure modes are also available for photos and video. Sound recording and playback are possible via a built-in stereo microphone and mono speaker.
JPEG and RAW
The DSC-RX1 saves pictures as compact JPEG files and/or 14-bit RAW files. RAW files save images prior to de-mosaicing, white balance, sharpness and color enhancement. This retains maximum latitude for enhancing the image in post.
High Speed AF as Fast as 0.13 Seconds
Focus as fast as 0.13 seconds with high speed AF. To improve focusing speed and sensitivity, the Exmor CMOS sensor uses its rapid throughput to deliver image signals to the camera's BIONZ processor, which provides intelligent response data to a new high speed actuator motor in the lens. The result is fast, DSLR-like focusing speeds even in low light.
Four Focusing Modes and Manual Focus Aids
The RX1 digital camera features four focusing modes: Single-shot AF, Continuous AF, Manual Focus and Direct Manual Focus. Users can deploy auto focusing to focus on the subject and quickly switch to manual focus for more precise adjustment. When activated, peaking helps define critical focus by highlighting the edges of objects that are in focus with your choice of three colors (white, red, or yellow). Incorporates dedicated focus, Iris and Macro rings, three distinct manual control rings for aperture, focusing, and macro.
Low-light Performance
The maximum selectable ISO setting is 25600, which enables low-light shooting without a flash. In addition, DSC-RX1 can capture six images in a fraction of a second, and combine the data from all six to create a single image with a reduction in noise equivalent to two additional steps of ISO sensitivity.
Shoe for Flash, Light or External Mic
The multi-interface shoe provides a versatile connection for accessories like an external flash unit, an electronic viewfinder, an optical viewfinder, a thumb grip, a clip-on LCD monitor, an external microphone and more (sold separately). Incorporates a built-in pop-up flash with Auto, Slow Sync, Rear Sync, Fill-flash and Flash Off modes.
Quick Navi
Pressing the Fn button activates Quick Navi, which allows the user to check camera settings at a glance and promptly change settings without having to search for dedicated menus.
Digital Level Gauge
A digital level gauge makes it easy to level the camera.
Sweep Panorama Mode captures expansive landscapes automatically. Press the shutter and sweep vertically or horizontally, while the camera shoots continuous images and stitches them together.
Face Detection/Registration Technology can automatically detect and register up to eight individual faces and adjust focus, exposure, white balance and flash. This technology can even prioritize children or adults.
Auto Portrait Framing combines Face Detection and By Pixel Super Resolution technologies with the rule of thirds, to provide beautifully composed and balanced, full-resolution portraits. When activated, Auto Portrait Framing will save the optimally reframed image and a copy of the original.
Read and learn more detail information about the Sony DSC-RX1 at BH InDepth.
Connect with B&H Photo on the Web! (Facebook, Twitter, Tumblr, Google+, Pinterest, Flickr, YouTube, B&H Insights & InDepth)
About B&H Photo Video
As the world's largest source of photography video and audio equipment, B&H Photo-Video is known worldwide for their attentive, knowledgeable sales force, and excellent customer service, including fast, reliable shipping. Visitors to the website can access a variety of enlightening articles and educational videos. B&H has been satisfying customers worldwide for close to 40 years.