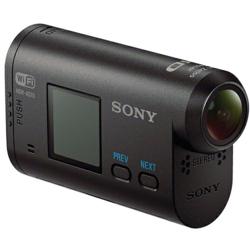 B&H Photo Video is pleased to share the launch of the Sony HDR-AS10 and HDR-AS15 High Definition Action Camcorders
New York, NY (PRWEB) August 29, 2012
B&H Photo Video is pleased to share the launch of the Sony HDR-AS15 and HDR-AS10 High Definition Action Camcorders.
Sony has announced a pair of compact, rugged Full HD camcorders for point-of-view (POV) shooting during action sports. As this corner of the camcorder market continues to grow, we knew it would only be a matter of time until Sony entered the fray. The Sony HDR-AS10 and HDR-AS15 are basically the same camera with one exception—the HDR-AS15 provides Wi-Fi capability. This means that Wi-Fi enabled mobile phones and tablets that are equipped with Sony's free PlayMemories Mobile App can pull optimized movies and photos from the HDR-AS15 without a cable. And once video is copied onto one's mobile device, the 3G or 4G mobile broadband connection can be used to email movies to friends and family, or upload the footage to social media sites.
Both the HDR-AS10 and the HDR-AS15 are designed for shooting in the mountains, water or anywhere else where action sports take place. They're ideal for skiing, snowboarding, skateboarding, surfing, motocross, skydiving, mountain biking and any other outdoor activity. These lightweight and rugged wearable action camcorders weigh only 3.2 ounces (90 g) and they record at resolutions up to Full HD 1920 x 1080p at 30 frames per second (fps). They also support other shooting modes, including a 2x and 4x Slow Motion Video Mode. The 2x Slow Motion Mode supports 1280 x 720p HD resolution video capture at 60 fps. The 4x Slow Motion Mode supports 1280 x 720p HD resolution video capture at an amazing 120 fps. Having 120 frames per second to break down video frame-by-frame makes the 4x Slow Motion Mode a valuable tool for both movie making and review of the tricks, line, form and technique.
Sony includes a ruggedized, waterproof housing with each camera. The housing has a universal tripod mount, and is waterproof down to a depth of 197 feet (60 m). It is also dirt- and dust-resistant, which makes the camera nearly impervious to mud, snow, rain, sand and grime. Both cameras also come with two adhesive mounts that attach securely to most flat and curved surfaces. With the waterproof housing, included mounts, different shooting modes and soon-to-be-available optional mounts, these action camcorders will excel in virtually any environment when shooting any type of action sport.
The HDR-AS10 and HDR-AS15 are both equipped with a Carl Zeiss Vario-Tessar lens, with an ultra-wide 170° viewing angle. They also have back-illuminated Exmor R CMOS image sensors, which offer superb low-light performance and support Full HD video. To compensate for camera shake that's typical when shooting POV action for extreme sports, Sony outfitted both models with SteadyShot Image Stabilization with Active Mode, which uses an innovative 3-way shake-canceling function to reduce blur caused by camera shake.
Other convenient features shared by the HDR-AS10 and HDR-AS15 include Press-n-Go recording, HDMI connectivity, and a built-in stereo microphone for capturing high-quality audio to go along with the Full HD video. The Press-n-Go recording function allows one to press a large start/stop button just once to begin recording, and the HDMI output lets one to display footage on a large HDTV screen in 1080p Full HD resolution. The two cameras are also outfitted with a Memory Stick Micro and microSD/SDHC memory card slot for recording directly onto a memory card, which one can remove and insert into a computer for editing and sharing movies on the Internet.
No other action camcorder available combines Carl Zeiss optics with a rugged exterior that welcomes mud, snow and water. So when one is serious about capturing quality video as sport of choice, then the HDR-AS15 and HDR-AS10 should definitely be considered. Plus, the included waterproof housing and optional mounting possibilities make these two Sony action camcorders flexible and rugged enough for any action sport in virtually any environment.
Read and learn more about the Sony HDR-AS10 and HDR-AS15 camcorders at BH In-Depth
Connect with B&H Photo on the Web! (Facebook, Twitter, Tumblr, Google+, Pinterest, Flickr, YouTube, B&H Insights & InDepth)
About B&H Photo Video
As the world's largest source of DSLR cameras, video and audio equipment, B&H Photo-Video is known worldwide for their attentive, knowledgeable sales force, and excellent customer service, including fast, reliable shipping. Visitors to the website can access a variety of enlightening articles and educational videos. B&H has been satisfying customers worldwide for over 35 years.